Swinging into action
Experienced
EHS

seniors look to lead baseball team in 2010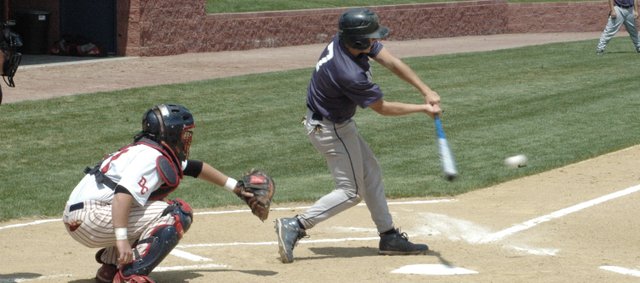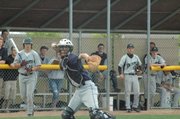 If there is something to be said for a senior-laden team, then the 2010 Eudora baseball team will surely improve on a solid 15-win season last year.
"We have a very talented senior group here, and I think anytime you run a quality baseball program you're going to have good seniors every year," coach Shaun Edmondson said. "We try to reload as much as possible. We have some good young guys, a good mix, and our freshman class is very talented."
Leading the way for the Cardinals this year will be seniors Evan Cleveland, Drew Noble and Tyler Beebe. All three of them have already signed to play baseball in college. Cleveland signed with Hutchinson and Beebe and Noble signed with Coffeyville Community College.
Cleveland split time last year at shortstop and second base, while Noble played third and pitched, and Beebe served as the team's catcher. Cleveland hit .339 and led the team in runs scored (20) and stolen bases (15). And while Noble played the majority at third a season ago for the Cardinals, he also played for the Lawrence Raiders last summer. And Beebe controls the running game with solid defensive skills and a strong throwing arm behind the plate.
"Beebe believes in himself," Edmondson said. "It's a vital characteristic to have in a baseball player. He's a heck of a player, and we have a lot of really good players. And I think it's going to be a big-time year for us."
A season ago, the team's strength was its stable of senior pitchers that included Michael Bricker, Bryan Dudley, Derek Scrimsher and ace Craig Harper. Bricker and Harper combined to go 11-2 on the season. Bricker went 5-1 an had a 3.89 ERA, and Harper went 6-1 with a miniscule 1.89 ERA. Harper also led the team with 44 strikeouts and totaled just 15 walks in 39 innings. Harper also averaged almost eight strikeouts per game. And Scrimsher won three games, and Dudley served as the team's center fielder and closed out seven games.
So as far as innings go, Eudora has lost nearly almost all of its experience from a season ago. But sophomores Jared Ireland and David Pierce logged innings for Eudora's legion team last summer, and senior Nick Mills will also likely see time on the mound this year.
"There are a lot of possibilities out there," Edmondson said. "We'll just have to wait and see."
Another possibility is moving Beebe from behind the plate to the pitcher's mound occasionally.
"That's a thing where if we do throw Beebe, we need someone back there who can replace his defensive ability," Edmondson said. "He's a heck of a defender and he's got a cannon."
Seniors Coty Stoneking and Coulter Vestal also logged varsity action last year, and Edmondson said his seniors have led by example through the first few weeks of practice.
"Their effort has been tremendous and their leadership has been tremendous to this point," Edmondson said. "And they really take the underclassmen under their wing and do whatever is necessary to help out. And as a coach, I appreciate that a lot."
Eudora opens the season March 25 at St. James.