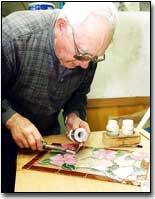 Chuck Harris works on a rose hanging stained glass, which was
donated to the Habitat for Humanity auction last Saturday. Harris
said it's hard to put a time estimate for his work on stained glass
hangings. Each piece depends on the intricacy of the pattern and
the amount of glass needed to complete the work.