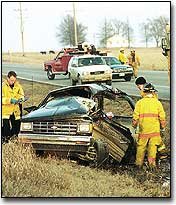 Emergency crews work the scene of an accident last Saturday
involving a DeSoto school bus and a sport utility vehicle near the
intersection of U.S. Highway 56 and Douglas County Road 1061 east
of Baldwin. Eudora resident Robert Cronin, the driver of the SUV,
was killed in the crash. No one aboard the school bus was injured,
the Kansas Highway Patrol said.