Mastering the basics
Is mastery learning the best approach for Eudora's kids?
About five years ago every high school sophomore in Kansas took a standardized math test. The results weren't pretty. No school district in the state the Eudora district included achieved the national average.
What made matters worse was a look at the report cards, which showed the vast majority of Eudora's sophomores, who clearly didn't know the material, received As and Bs for the course work.
Were the grades inflated? Without question, said Superintendent Dan Bloom.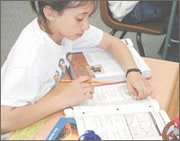 A major scandal, this wasn't. Teachers can claim to be objective in their grading practices, said one administrator in DeSoto, who added that the human element will ensure grading will always be a subjective practice.
Still, the math grading was something that left many in the Eudora School District a bit red-faced.
"We didn't lop off the heads of any teachers," Bloom said, "but it was something we addressed."
Last week, The Eudora News published a list of third-quarter honor students at Eudora West Elementary. More than 200 students or 73 percent of the West student body the most in school history earned nothing but As and Bs on their report cards.
"I don't think at the average elementary school you would find that to be the case," said one elementary school principal in Olathe. "I have no statistics to back that up, but that is an amazing number."
An amazing number made more incredible by the fact that the school teeters near or slightly above the state average in most standardized assessment tests. But professional educators argue that finding parallels between report cards and standardized test scores is an apples-to-oranges comparison.
"They are two different things," said Mindy Salmons, Eudora's director of curriculum. "A grade is reflective of what a child is doing on a daily basis. Test scores are used to get an idea of growth or improvement as a district."
The better examination might be of the curriculum itself.
Mastering the curriculum
Eudora is using a mastery learning curriculum at the elementary school level which requires students to show they have learned a minimum requirement of the curriculum be it in math, language arts or history before moving on to the next piece of the puzzle.
Students who don't get it stay at that level until they do learn it.
The system, also used at Nottingham Elementary, was implemented in 1996 at West as a means of reporting accreditation data to the state, which sets the standard for what the average elementary school student should know.
The concept has been embraced at West.
"We get our standard from the state and align our curriculum to the guidelines set by the state," said Eudora West Principal Rod Moyer. "I don't look at it as our students learning the minimum. I look at it as us adhering to the guidelines."
In other words, West is merely playing the game by the state's rules and making the game work in its favor. Many educators agree elementary students' grades are slightly inflated to aid the development of the students' confidence.
However, the critic might argue that awarding As based on what the average student should know is merely a means of rewarding mediocrity, which, in turn, has lowered the value of an A.
"It's based on what we think a fourth-grade student should be able to accomplish, what the average fourth-grader should know. How many students should be able to reach that? A very large number, I would think," Bloom said. "Evidently, three-fourth of the students are able to do that. That's a whole different deal than what you and I might think of as As and Bs.
"Is it wrong or inappropriate? I don't think so. It's the standard that is put in place."
Besides, said Monica Davenport, the director of curriculum at the nearby DeSoto School District, there is nothing "average" or "minimum" about the benchmark set by the Kansas Department of Education.
"If the curriculum being used in Eudora is set by state benchmarks, it sure isn't a minimum standard," Davenport said. "The bar has been raised and raised and raised. The state feels strongly that if all students perform at the benchmark, the students will be prepared for life.
"The standard is truly high."
At-risk students a concern
Perhaps the 73 percent of students on the honor roll shouldn't be alarming, but the 27 percent who are not should. Many of those students would be considered at-risk students, said Moyer, adding that tending to their needs is essential.
"Is there a possibility that something doesn't get mastered? Yes," Moyer said. "If there is a significant discrepancy if someone is mastering this and not mastering that, that's when we have to evaluate."
Tests are taken to see if there is a learning disability. If none are detected, a student could possibly be held back for a year. Moyer said that drastic measure has happened fewer than five times in the last six years.
The goal is to bring every pupil not only to the mastery level, but to be included on the lengthy list of honor students.
"We always have room to improve," Moyer said. "My goal is to have every kid earn his right to be on the honor roll. It would be great for every student to score in the 99th percentile on the Iowa Basics, but realistically, that won't happen."
In the past, educators taught a curriculum and most students grasped it, which was considered acceptable. However, the state department of education deemed that most students learning the curriculum wasn't good enough.
"It used to be that not all students got it and that was OK," Davenport said. "But that has changed. The state requires that all students learn the material. Teachers can no longer teach in a way that all students don't get it. They teach it and keep working on it until mastery is achieved."
The reasoning was simple, according to Bloom. The state "didn't want 'Johnny' slipping through the cracks without knowing how to read."
Preparing for the future
The DeSoto School District uses a hybrid concept of standard curriculum and mastery learning called the 80-80 curriculum, which, simply put, sets a goal of 80 percent of its enrollment mastering 80 percent of the curriculum at 80 percent or better.
"Even though our students are doing well, we don't think you'll find 80 percent of our students getting nothing but As and Bs. We think it takes three-quarters of the year to achieve mastery. We are teaching from mastery," Davenport said. "I think it is quite common to see elementary kids get grades like that because teachers are grading on the mastered curriculum. The child is held accountable directly to the curriculum."
All indications are that West students are not only mastering the curriculum, they are retaining it. The educational foundation built at the fourth-, fifth- and sixth-grade levels is helping prepare students for a higher level of learning, which was the reason Eudora went to mastery learning in the first place.
About one-third of the students who made the West honor roll five years ago are now honor students at Eudora High.
Mastery learning is used in the alternative education curriculum as well as a few math classes at the high school level, but principal Mary Kobza said by and large, it's not a concept that would be effective at the high school level because it can easily be abused.
"We want to be a transition from high school to the college setting or the work setting," Kobza said. "You're usually not going to have a situation in life where you can screw up the first time and you get to retry. We want our students to start becoming accountable for themselves, to start preparing themselves for tests."
Mastery with honors
That in a nutshell might explain the high level of mastery at West. It doesn't matter how many times a student tries, once mastery is achieved, a grade usually a high one accompanies it.
Moyer does argue, however, that an A is still earned in the same way.
"It's the same as it's always been: 90 percent is an A and 80 percent is a B," he said. "That hasn't changed. They still have to do the work."
But is there a difference between mere mastery through multiple test efforts and becoming an honor student?
Some wonder.
"I think our grades reflect what we ask our students to do. They live up to the state standards. I am concerned that a dichotomy of what a letter grade or honor roll student is compared to what it was 20 or 30 years ago," Bloom said.
No one will argue that educational trends and philosophies have changed in 20 or 30 years. Still, Eudora is one of the few school districts in this area using a mastery learning curriculum.
"The basic concept of mastery learning seems to make sense," said Gary Stevenson, a principal in the Olathe school district, which doesn't use mastery learning. "You teach a piece of curriculum until mastery has been achieved.
"The problem is if a teacher gets stuck in the mindset that every student must master something before you can move on, there could be a problem for the students who have already mastered it. Do they have to wait for everyone else?"
Moyer said computer technology, to be in place by fall, will add a new dimension to West's curriculum. Students will be able to work side by side at completely different levels of learning, thanks to the new computer software.
"It's going to make it easier for teachers to tend to the individual needs of all students," Moyer said.