Home-mat advantage
Four Cardinals win; Eudora steamrolls the field in tourney victory
This is the time of year all wrestling coaches dread.
The winter recess breaks the continuity of the practice routine and gives athletes a handful of days to sit around and do little except eat.
In past years, Eudora High coach Ron Abel dreaded the break. He preached the importance of his wrestlers maintaining their conditioning not to mention their weight by staying active and avoiding most of the holiday goodies.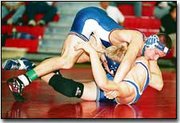 Over the years, there have been more than a few grapplers who have returned from the winter recess a Christmas cookie or two over their wrestling weight.
This year, Abel hasn't had to do too much preaching. Having a senior-led team helps. So does the fact that these seniors are focused on making some noise in March.
"We've talked about it, but we haven't had to talk that much," Abel said. "We talked about staying active. And we've talked about hitting it hard when they get back. This is a very focused group right now."
The Cardinals showed the community last Saturday they might have what it takes to be considered among the top Class 4A wrestling programs in Kansas by steamrolling the competition at the 10-team Eudora Invitational tourney.
Four Cardinals won individual titles, while two took home second-place medals and two more finished third. It helped Eudora score 177 points to easily outdistance Sumner Academy, which was second with 119 points. Wellsville was third with 110.5 points.
"We talked a lot about winning our own tournament," Abel said. "We made it a goal to perform well at our home meet, to show the community what kind of team we have."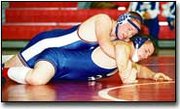 Brian Harris (140), Brett Becker (152), Jason Lister (215) and Shane Grant (275) won their respective weight classes, while Dustin Crowe (125) and Sam Campbell (135) each took second place and James Barr (160) and Ronnie Morelan (171) were third.
It was the kind of performance Abel has been expecting from this squad, which has put a lot of pressure on itself to compete for a state crown. There has been a lot of talk about that more talk than is necessary at this point of the season, Abel said.
"Our kids have high expectations," he said. "We want to be successful. I don't know if you can talk about something like (a state championship) before you get a little closer than we've gotten, but we've got some talent and our kids are working hard.
"If all of the things fall into place, it could happen, but we don't need to think about it right now. A lot can happen between now and March."
More like this story