Burkhardt, Woods elected to council
After the final tallies from Tuesday's election were in, the two contested seats on the Eudora City Council were filled with one incumbent and one newcomer.
Incumbent Rex Burkhardt finished atop the four-person ballot with 485 votes, or 35 percent. Newcomer Doug Woods filled the second vacancy on the council, taking 28 percent with his 384 votes.
First-time runner Beverly Koerner received 262 votes, or 19 percent. Second-time candidate Robin Ross pulled in 258 votes, or 19 percent.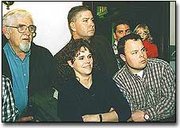 Burkhardt gave credit to the two candidates who didn't make it onto the council. He said he admired them for having the courage to voice their opinions on the issues.
"You have to respect the two candidates that didn't make it, Beverly and Robin, for raising issues and working on their campaigns," he said. "Everybody worked so hard."
Burkhardt worked with Mayor-elect Ron Conner for two years when Conner served on the council four years ago. However, working with newly-elected Council member Woods will be a new experience for him.
"I don't know Doug," Burkhardt said. "But, I am always looking forward to new challenges and working with new people."
Woods said being a new face to Eudora's voters was a challenge. He focused his energy on advertising, putting up signs and walking door to door to introduce himself to residents.
"I know I'm not as well known as some of the people, so I had to be out there and get my name in front of the people," Woods said.
Now, Woods faces a new challenge to familiarize himself with policies, procedures and the lingo that comes with serving in city government.
As the tallying reached its end on Tuesday, Woods was surrounded by supporters. Despite the challenges he may have in front of him, his mother, Jody Woods, was sure her son is up to the task and would serve Eudora well.
"This has done a lot for him," she said. "I'm very proud of him."