Parents, students prepare for new school year start
Going back to school can require parents and caregivers to prepare almost as much as students.
Throughout the week, new students will be enrolling while middle and high schoolers will be getting situated in their new environments, meaning parents and caregivers need to know what to bring.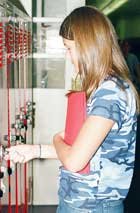 New student enrollment at Eudora schools began Tuesday, but returning eighth graders could pick up packets of school information Monday.
Parents and caregivers enrolling new students need to bring a few things with them to the school. Eudora High School secretary Teresa Carnagie said new students need to show their original birth certificates, immunization records, proof of residency and school records, if possible, so that the school doesn't have to hunt them down from the previous school.
Nottingham Elementary School secretary Sharon Martin said parents need to bring records of physicals as well.
Carnagie also said families with custody issues needed to notify the school of the student's situation so the school would know whom to contact, if necessary.
Returning students don't need to enroll, but middle and high school students need to pick up packets of information at their schools before classes start.
Carnagie said the packets included students' class schedules, which they filled out last spring, including any changes, and other pertinent information.
At Eudora Middle School, students also pick up packets and test out their lockers to make sure they function properly, secretary Holly Kracl said.
High school and middle school students get more than a packet of information to start off the year. Kracl said that on seventh grade packet days the school had eighth graders on hand to orient students new to the middle school.
"The seventh graders are usually pretty anxious," Kracl said. "It's a big step coming to the middle school in this big, old building."
High school freshman and students new to the district get the same treatment, high school counselor Brian Kraus said, but not during enrollment. On Aug. 21, only new students and freshman show up at school. For a half day, the students will get an introduction by Principal Dale Sample, and teachers and faculty will introduce the students to organizations, sports and other activities at the school. Finally, they will attend each class for eight to 10 minutes, long enough to meet their teachers.
"We're using that as an orientation day," Kraus said. "That way they can get all their questions answered in a small group setting."
Eudora West Elementary School students can tour the building, even if they come in on a day they don't enroll, said head secretary Marj Spence.
Little ones starting kindergarten will have a similar opportunity after enrollment. The school has Kindergarten Back to School Night for parents and caregivers, as well as Kindergarten Visitation Day, which is by appointment, Martin said.
"That's when the children get to come, see their class and bring their supplies and get used to their new environment," she said.