Cards place second in invitational
Coach Ron Abel received an early Christmas present from his squad Saturday a trophy from the 24th annual Eudora Wrestling Invitational.
Four Cardinals made it to the finals of the 11-team meet, pacing Eudora to a second place finish.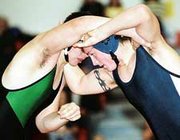 "You can't be unhappy with second place. I'm really impressed with our progress this early in the season," Abel said. "We made a big step up Saturday. It was a good surprise."
The biggest surprise came at 171 pounds where freshman Josh Barr earned third place in his first varsity tournament. Unseeded going in and weighing 160, Barr pinned three opponents, including Prairie View in the consolation finals.
"I had a ball watching him wrestle.," Abel said. "He's not intimidated and just gets after it,."
Abel was also impressed with the effort of his 119-pounder, senior Matt Linzer, who finished second of the day. Linzer opened with a victory by fall over Hiawatha and then pinned his No. 2 seeded foe from Kansas City-Sumner with 8 seconds left in the third period. Linzer was defeated 10-5 by Chris Caruthers of Wellsville in the finals.
James Barr, Michael Paxton and Jason Marmon each helped the team effort with second place medals as well.
James Barr, a junior at 160 pounds, needed only a minute to pin Central Heights in his first match and then used a late escape and takedown to beat St. Thomas Aquinas 10-7 in his second contest. He fell 11-7 to Brandon Sommer of Prairie View in the finals.
At 189 pounds, Paxton had no trouble dispatching Prairie View by fall in just over a minute to get off to a good start. In second round action, he scored four points in the final period to best Holton 6-0 before losing to a more experienced wrestler, Todd Roberts of Wellsville, and finishing second.
Marmon pinned Hiawatha and Perry opponents both in the second periods of the 215-pound matches. The senior faced tough competition in the final and was defeated by Luke Page of Prairie View, who placed second in the state last year at 189 pounds.
Three other Cardinal grapplers won consolation finalsLuke Powers at 145, Mark Lister at 125 and Andy Coffman at 103.
Coffman is a freshman who weighs 90 pounds, meaning he gives up 10 percent of his body weight every time he takes the mat. The freshman posted a major decision, 11-2, over Holton to finish third.
Going down a weight class from Thursday's competition, Lister captured third at 125 in exciting fashion. He trailed going into the final two minutes but scored two takedowns and back points to come out on top 9-6.
Powers also used a major decision (14-3) to earn the bronze medal. He got to third place by downing Kansas City-Washington 14-7, a tight 8-6 loss to the eventual winner from St. Thomas Aquinas, a very quick pin of Louisburg and a second victory over KC-Washington.
Another surprise for the Cardinals was Chris Pittman's performance at 152 pounds. Pittman was seeded sixth but finished fourth on the strength of two victories, a pin of Perry and a 5-4 decision over Holton. Carl Holz pinned Hiawatha at 130 pounds, and senior Nate Cleveland took a 13-10 victory over Louisburg in the tournament.
The day's only disappointment was the injury default of heavyweight Shane Grant, who injured his ribs during the football season. After pinning Louisburg in the opening round, Grant was defeated by Prairie View. He came back with another fast pin against Holton before being sidelined and finishing fourth.
St. Thomas Aquinas won Eudora's tourney with 150 points, followed by the Cards with 138.
In the opening round, five straight Eudora wrestlers the Barr brothers, Paxton, Marmon and Grant earned pins. KC-Washington was third with 122 points, followed by Wellsville, 107.5; KC-Sumner, 104.5; Prairie View, 98; and Louisburg, 48.5.
Thursday night Eudora opened its dual season at Santa Fe Trail with Washburn Rural. SFT put a 50-24 hurt on Eudora, but the Cards came back with a 47-25 win over Washburn.
"We knew it would be extremely tough going in (to Santa Fe Trail) and we gave up 18 points in forfeits," said Abel. "We only had five wins and three were in the last three weight classes. We're much stronger and more experienced at the upper end."
Those five victories went to Linzer with a 14-8 decision; James Barr, who survived for a 13-9 advantage; and pins by big men Paxton, Marmon and Grant.
The totals were better against Washburn Rural. Linzer posted the first win at 119 pounds. After trailing 4-1 going into the final period, the senior escaped and scored a takedown to tie it and put his opponent on his back for the 7-4 decision. Lister, at 130, stacked his foe for an opening period pin, and Powers won by technical fall at 145. The Barr brothers both won. James took an 11-5 decision at 160 and Josh pinned at 171. Paxton, a 189-pound junior, recorded the fastest victory of the evening with a pin in 26 seconds. Pittman and Grant received forfeits.
More like this story