Lawrence mortuary coming to Eudora
A Lawrence mortuary experienced in providing services to families for those who have come to the end of their lives is finding a new beginning in Eudora.
Owners of Warren-McElwain Mortuary announced its plans Tuesday to build a branch mortuary in Eudora.
Co-owner Larry McElwain said Eudora's growing population played a role in his decision to come to Eudora.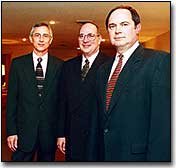 "Eudora's growing rapidly. So is Lawrence, but Lawrence has got a full facility here and Eudora has nothing," he said from his Lawrence office.
McElwain said the location of the mortuary is yet to be determined. He expects to have the new location open by late fall 2001. Though that is still several months away, McElwain said he wanted to make the announcement early.
"We didn't want it to be rumored we were coming. We wanted it to be news and be factual and then come back with the legal process," he said.
Although the Warren-McElwain building will be new in Eudora, the company's presence has been felt in town in the past. A Eudora branch was started in 1904, the successor to the Schubert Funeral Home, which began in the back of a Main Street barber shop. Carl Schubert was the original funeral director, who moved his funeral home to Lawrence in the 1930s. That business joined Funk Mortuary in 1954 to create Cooper-Warren Mortuary, which became the Warren-McElwain Mortuary in 1974.
The return of the mortuary will also bring a director with Eudora ties to the community.
Rob Campanella plans to move to Eudora with his wife, Diane. He will be a partner in the company and manage the mortuary. He has worked for Warren-McElwain since 1995.
Campanella said when he came to work for the mortuary, his family wanted to live in Eudora but the right home wasn't available at the time. Because he wanted his son to attend Eudora High, the family settled in Lawrence and his son commuted to Eudora. The Campanellas have two sons.
He said moving into the community means more than relocating for a job. It means becoming part of the community as well.
"If you're going to be in the community, especially with the type of service that we provide, you have to be part of the community," he said.