Eudora wrestlers win one, lose one in dual meet
Eudora wrestlers settled for a split in their dual meet against Spring Hill and Osawatomie Thursday at Eudora High School.
The Cardinals beat Osawatomie 36-33, but came up a few points short against Spring Hill, losing the contest 33-28.
Dustin Crowe (119 lbs.), Zac Hamlin (189) and Jason Marmon (215) eached pinned their Osawatomie opponents.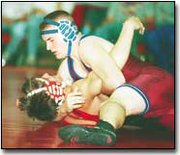 Brian Harris (135) and Shane Grant (275) pinned their Spring Hill opponents.
Winning by decision against Spring Hill wer, Matt Linzer (112), Crowe, Sam Campbell (130) Brett Becker (140) and Marmon (215).
Coach Ron Abel said the close matches were indicative of the high level of competition in the Frontier League.
"Both of these duals were very close and wrestled hard by both teams," he said. "Our league is very solid this year. As our results demonstrate, any single match can determine which team wins the dual and which will lose."
That point was clearly illustrated during the Spring Hill match, Abel said.
"If we win one more varsity weight against Spring Hill, we win the dual by a point."