Cardinal football player hopes to leave a mark at
SMC
For 2001 Eudora graduate Steve Krutz, becoming part of a building or a rebuilding football program is a welcomed challenge.
Krutz, who played wide receiver and safety for the Cardinals varsity team during his junior and senior years, saw Coach Aaron Barnett turn Eudora into a Frontier League powerhouse.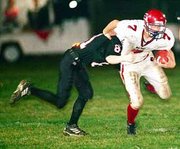 "Beating Prairie View was the best part of the year," Krutz said. "It was a real close game and we really came together as a team. Coach Barnett really turned our program around."
Now, Krutz will head into a program that is trying to start from scratch in the Kansas Collegiate Athletic Conference (KCAC). He accepted an offer to play wide receiver at St. Mary College in Leavenworth, a school that will be entering its second year with a football program. Krutz said he is optimistic about being part of the new St. Mary Spires tradition. Krutz chose SMC over a series of junior colleges in Kansas including Coffeyville, Highland and Fort Scott.
"I was looking for a four year college," Krutz said. "I didn't want to worry about transferring (to a four year college) later."
Krutz is currently undecided on a major, but he plans on taking a full load of classes until he decides on a course of study.
"I'm not going to worry about my major yet," Krutz said. "I'll just take general classes then worry about my major later."
The proximity of SMC, who play their games at the stadium of Leavenworth High School, will allow his parents Stephen and Kathy and younger siblings Chad, 11, and Chancy, 9, to watch his games.
"It is a chance to play football, with good location and a quality school," Krutz said. "My family can come see me play because it is only 40 minutes away."
Krutz expects to play for the Spires next season but he knows he must take a page out of the book on hard work that he learned from Barnett and the Cardinal staff. He also realizes that it will be a bit of a relief to leave behind the days of iron man football at EHS.
"The (EHS) staff gave me a strong work ethic to give it your all until the whistle blows," Krutz said. " I want to gain weight so that I will have a better chance of playing. The practices will be more intense but the games won't be as demanding because I'm only playing on one side of the ball."
With a roster that had only about 20 players last year, the Spires made their debut their program in the KCAC. Krutz said he hopes SMC can compete with some of the more established programs in the conference in the near future.
"SMC didn't do real well last year," Krutz said. "Hopefully, they will get a tradition going and start becoming a powerhouse."
Although Benedictine College is not on this year's schedule, Krutz hopes to see them on the slate before he graduates from SMC. A meeting with the Atchison-based college would mean a reunion between Krutz and former Eudora teammate Brian Harris.
"I hope that I get to play against Brian," Krutz said. "It would be nice to play against someone I know for bragging rights."
Krutz also competed on the track team in the high hurdles events for the Cardinals as well as playing a guard on the junior varsity basketball team for three years. He plans on continuing to play basketball at the intramural level at SMC.
Originally from the Albany, N.Y. area, Krutz moved to Eudora in the seventh grade. He enjoys following the collegiate football programs of Florida State and Tennessee as well as the basketball teams Kansas University and Syracuse. He is spending the summer working out, roofing and working for Jack Cooper Transportation of Kansas City, Mo. Krutz said he is glad that his family made the move to Eudora a few years ago.
"People out here are real nice," Krutz said. "It seems like a nicer place. I remember how much fun (high school) football was and how much we improved."