In the Marsh household, when Kester and Robyn need to get the attention of their 2-year-old son Aryzona, they have to result to more than saying his full name.
The carpet has been pulled up so their child can feel the vibrations when they chase him around the house.
A facial expression can communicate volumes. A few hand signals don't hurt either.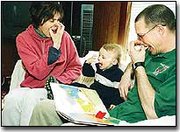 It's a different world raising a child in the Marsh household. Of the three, Kester is the only one who can hear.
In the deaf world, there are two different types of people. The first, called hearing impaired, consists of those who can function in the hearing world and sometimes use a device to provide limited hearing. The second, like two-thirds of the Marsh household, cannot hear anything.
"Basically, there's just a gene in our family that says either you're going to be deaf or not," Kester Marsh said.
Genetic deafness is not stranger to either side of Aryzona's parents' families. Though daily life is different for the Marsh's than for most, Kester Marsh said it's "not a problem."
The family takes an educational approach to its situation. Kester Marsh has taught American sign language as a foreign language for four years at Lawrence Free State High School. He helped start the program in the Lawrence School District five years ago. Since then, the class has been added to the curriculum at Lawrence High. Kester Marsh's parents, two aunts and an uncle all teach in schools for the deaf.
In fact, Aryzona got an early start on his learning simply because he's deaf. He began learning sign language six months earlier than most kids begin speaking.
"He's going to be smarter than most kids," Kester Marsh said. "He's going to know ASL (American Sign Language) and English."
Being deaf can have its advantages, the father said. When hearing is lost, other senses increase. A wider field of vision is one possibility, he explained.
"Statistically, deaf people are better drivers than hearing people," he said. "They just see things quicker and react to them quicker."
Around the house, the family has smoke alarms and telephones attached to lights. Not unlike a typical family after a day at the office, the Marshes often relax in front of the television. Occasionally, there are some problems, such as a program that doesn't provide closed captioning.
"If something's not closed captioned, I get ticked off because it's no fair for me to watch," Kester Marsh said.
And there is the occasional problem of getting a baby sitter. It's practically essential the baby sitter know sign language and be able to handle Aryzona. For now, the couple has used some of Marsh's students from time to time, but have yet to find a permanent arrangement.
"With Aryzona, you have to chase him down everywhere," Kester Marsh said. "It's been hard for us to find a babysitter. We want to find someone who can communicate with him."
Recently, the family has begun worrying about more serious issues. They live on Maple Street, between Eighth and Ninth streets. Kester Marsh said Maple Street is bombarded with traffic from cars avoiding Main Street's 20 mph speed limit. A speeding car presents a danger to any child, but the danger increases when the child cannot hear.
To alleviate the problem, Kester Marsh approached the Eudora City Council on Monday to request that a sign be put up warning drivers of deaf children in the area. Marsh is concerned not only for Aryzona and other children in the area, but for what's around the corner for his family. His wife is pregnant.
The council unanimously agreed to post the signs.
"We've called the cops several times because we're concerned about other kids in the area," Kester Marsh said.
He said one of the biggest obstacles his family has faced is educating others about the rights of those with disabilities. Some businesses find it hard to ensure those disabled get proper services as outlined in the Americans with Disabilities Act (ADA), he explained.
"Here, we've had to educate a lot of people on making the proper accommodations," he said. "We've had to fight doctors. When you're sick, you don't want to have to deal with it."
Despite the occasional difficulties, Kester Marsh said they're just one happy family. He would like to see more people learn sign language, not only from an educational standpoint, but also as a way for hearing people to learn a little more about the world of the deaf.
"It's not just for deaf people anymore," he said.
More like this story