A work in progress
Sue Fulcher celebrates 25 years in the unending project that is her historic home
Lots of things can change in a quarter century. Just ask Sue Fulcher.
Since she and her family moved into the Pilla House, the historic Eudora home, built in 1894 by German immigrant and prominent business owner Charles Pilla, has been a scene of constant change and renovation. Twenty-five years later Fulcher still has projects brewing.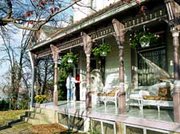 "It's been an ongoing process," she said.
Sunday, Nov. 4, Fulcher invited the community to an open house to celebrate her silver anniversary in the home. Between 80 and 90 people showed up to tour the home and its renovations at the hands of Sue Fulcher and her late husband since they moved in on Halloween 1976.
"It was just a matter of cleaning it up," Fulcher said of preparations before moving into the home. Although the Fulchers had repairs and renovations planned, the home was in good enough condition for day-to-day living.
When the Fulchers were deciding whether to buy the house, Sue Fulcher can remember standing outside the home pondering whether she was really up to the task.
Apparently she was. Going from room to room, Fulcher can point out changes made to the rooms. Not happy with the house's wallpaper, she re-papered the rooms one or two at a time, including the foyer with its two story tall walls. Fulcher got the job done on a ladder running from behind a first floor piano across the staircase to the top of the second floor foyer ceiling.
Wallpapering around the door jambs' ornate appointments wasn't the easiest job, especially in the living room, which Fulcher thinks must have been one of the last wallpapering projects.
"I was practically in tears when I was in this room," she said.
The kitchen has undergone a metamorphosis as well. Pulling up the floor revealed a gymnasium floor, complete with tape markings, added during a previous renovation. Where pipes used to hang from the kitchen ceiling lies a decorative tin roof, which required a good deal of refinishing, from a Wilson drugstore.
Fortunately, Fulcher said, she didn't have too much work cut out in terms of the first floor woodwork, despite a point when the house had a leaky roof and no windows.
"All the wood was a dark, red brown," she said of the upstairs woodwork. "We couldn't tell there was a grain."
Fulcher said she would eventually like to redo the dining room's linoleum floors.
The woodwork around the edge of the claw-footed bathtub thought to be the first porcelain bathtub in Eudora required some refinishing, too.
Painting the outside of the three story house herself, minus a few appointments contracted out, proved tricky. For Mother's Day, Fulcher's husband gave her a scaffold that attached to two ladders to make the job easier, but crawling precariously onto the contraption proved difficult. Getting down was even harder.
After the project was finished, including painting almost 100 spindles around the porch, Fulcher said her husband suggested she paint silver bands around each spindle.
She described her response to the suggestion as, "If looks could kill"
The unfinished attic, where out of a westward- facing window Frasier Hall at Kansas University is visible on a clear day, will stay that way.
"I don't need any more space," Fulcher said.
Although she now has the house to herself, the Fulchers have shared the home with their children and a grandson who was on hand to give tours at the open house.
"He loves this house," she said, and added, jokingly, "He probably showed them things I didn't want shown."
The home has become her family's Christmas and Thanksgiving center as well as the venue for any other family celebration.
"My kids say I'll never sell it, and I probably won't," Fulcher said. "I enjoy living and working here."
Despite the home's status as a 25-year-old work-in-progress, Fulcher can't image she'll ever be done refurbishing.
"My mother says I'm more happy when I'm in a big mess," she said.
It's impossible for her to sit still and be content with the house, Fulcher said, because she'll always find a tree that needs trimming or some other task.
And tasks at the Pilla House aren't small. When Fulcher had to wash all 44 windows the other day, she had to take them apart to get both sides. Yet she won't take a friend up on an offer to try out the window washing service she uses.
"I like to do this," she said of the "menial" tasks. "I don't know why, but it gives me a great deal of satisfaction. That's part of what I really enjoy."