Cats cross Cardinals' path
Eudora football team unlucky against new league foe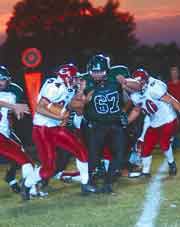 Some people argue that a rivalry isn't a true rivalry unless both teams consistently possess an opportunity to win. And within that context, the natural geographical rivalry between the Eudora and De Soto football programs has failed to produce a proper rivalry. Eudora has completely dominated De Soto since the Mill Valley split.
Well, it's a rivalry now. The Wildcats (5-1) stunned the Cardinals (4-2) 12-7 Friday night in De Soto.
The Wildcats were on the rebound following a devastating 10-7 overtime loss to Anderson County, a team Eudora routed 48-12.
"I think (De Soto) thought they could win, but I'm not sure they believed they could win," Eudora coach Gregg Webb said. "Especially after last week, there were so many doubts. But to their credit and to their coaches' credit, coming off that loss after we just beat that same team like a drum, that's a great job by their staff and their kids."
Eudora won its previous three games by an average of 50-4. That momentum appeared to carr into the opening minutes of the De Soto game.
The Wildcats fumbled the third snap of the contest. Cardinal senior Paul Smith jumped on the loose ball at the Wildcat 18.
Eudora squandered the opportunity following a crippling holding penalty and a turnover on downs.
"That's the series of the game," Webb said. "If we stick that in the end zone, (De Soto's) still got some down from last week, we're feeling pretty good about ourselves, and low and behold a holding penalty decides to kill our drive. And then we end up missing it by an inch.
"From then on it was a dogfight."
And the lead dog in that fight was De Soto quarterback, junior Neil Erisman. The Wildcat signal caller shredded the Cardinal defense for 185 yards rushing on 23 carries. He added 53 yards passing.
At the half Erisman had accounted for 172 of the Wildcats' 190 total yards.
"I told the team before the game and at halftime that(Erisman) is the kid that can beat us, and he basically did," Webb said. "We had different schemes designed to make him give the ball up, and we didn't. He's a really good player.
"He's a talented wrestler, and he's been in those tough situations. He knows pressure, and he knows competition. We had to force him to give it up, and we didn't. But that's what good players do -- they make plays. And we have to find a guy that can do that."
Webb suggested that junior quarterback Kyle Brouhard and senior wide receiver Joe Kaup had the potential to develop that playmaking ability. But Brouhard only attempted two passes in the first half.
"Looking on the board, X's and O's, I really thought we could run the ball," Webb said. "I mean, I really thought we could run the ball. It was set up.
"Whether it's hope or disillusionment I thought we could. We have some pretty good kids that I thought matched-up well against their defense. And we would make one bad play and then you're in trouble on your drive.
"But their defense has been pretty good all year, and they haven't given up very many yards and for good reason."
The lone bright spot for Brouhard and company came on the opening drive of the second half. Despite struggling on both sides of the ball, Eudora trailed by just six at the break.
Junior returner Miles Cleveland gave the offense a short field with a return to the Cardinal 43. Seven plays and just over two minutes later the Cards took their first and only lead of the night.
The key play on the scoring drive was senior fullback Brendan Jackson's 33-yard run on fourth-and-11 from the Cardinal 34. He capped the drive with a one-yard run.
"In the second half we had a great drive and bam, we're ahead 7-6, and they did a great thing of coming back on that next drive," Webb said. "Our defense just couldn't make a play. Our safety makes a perfect blitz, right to the spot and can't make the tackle.
"That was really, I thought, the key to the game as far as our defense was concerned. We just couldn't tackle very well."
Eudora's regroup opportunity comes Friday night at home against Santa Fe Trail. It's homecoming for the Cards.
"It's not a good situation for us," Webb said. "We're going to have to really show some character going into our district. We're going in with some lack of confidence.
"Hopefully we can play well, get ahead of Santa Fe Trail, and get some of that confidence back.
"We'll see how much our kids want to put into the rest of the season. This was a real downer for them."
More like this story