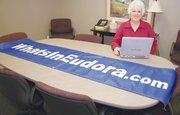 Here's a quick question: What's in Eudora?
Chances are your first thoughts are included in a new Web site launched by Caren Rowland, a real estate agent at Coldwell-Banker/McGrew Real Estate. Rowland launched www.whatsineudora.com last month, but plans to have expanded content up by Jan. 1.
"This is not just my site. I did this so it could be Eudora's site," Rowland said.
The site acts as another Web outlet for the city, which has been lacking a strong Internet presence up until this year. Earlier in the year, the Eudora school district launched a revamped home page. The city has money budgeted to launch an official government page next year.
In the meantime, Rowland's site will serve as a gateway for the businesses of Eudora.
"I've always been heavily involved with the Eudora Chamber of Commerce. I've been past president a couple of times," Rowland said. "I really thought we needed something for businesses."
Local business owners can use the site to post menus, coupons or pictures, Rowland said.
"I want to do that for everybody, but it's going to take a little bit of time to get it all done," she said.
The site itself is completely free to the public to read and contribute to. Rowland handles all the hosting costs and uses a service called E-Neighborhoods to handle the backend maintenance.
She had been kicking around the idea for the site for some time and about a month ago the concept coalesced.
"Eudora doesn't have anything like this, and it's something they could really use," Rowland said.
The site could be particularly valuable to the restaurants in town, she said.
The site already has a virtual tour of Gambino's Pizza and Hero Deli as well as profile pages for dozens of other local entrepreneurs.
Rowland has more businesses ready to sign on.
"Everyone that I have talked to has just thought it has been a great idea," she said.
In addition, the site could also serve as a meeting point for the community at large.
"I just took on all of Eudora," Rowland said.
She'll soon add a community forum to the site, which she envisioned as a tool for past Eudora High School graduates or those with specific questions about the town, Rowland said.
"There's so many ways you can use the bulletin board," Rowland said. "Maybe you can find somebody."
The site offers residents the opportunity to post community events, pictures and announcements.
The visitors will really fuel the content on the site, Rowland said.
"I just hope everyone will use and enjoy it and let me know of the changes they would like to see made or something that they would like added," she said.
While the site could be used as a creative medium for the community, most submissions will take at least 24 hours to post.
"I want my site to be OK and safe for children; a G-rated site," Rowland said.
Rowland has high hopes for the site as more people visit and add their content, she said.
"Hopefully this will be a great site, and with the input it could be an even greater site," she said.