West students brush up on art skills in club
Eudora West Elementary School third-grader Brenna Sparks said she thinks Georgia O'Keefe is pretty cool.
She made the observation after school on the afternoon of April 2 while coloring in a sunflower with oil pastels.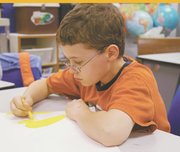 Sparks' flower was in the style of O'Keefe, whose biographical information was projected onto one side of the classroom. All around her, different students worked on their own renditions of the flower while scribbling away with the pastels.
Next week, Sparks might hunker down to another project based on Henri Matisse.
Sparks is a member of the art club at West.
The club is one of several groups West students have the opportunity to attend after school. Other clubs include the engineering club, music club and math club.
Each of the clubs will meet over the course of the month.
For Keith Reynolds, the art club had an obvious advantage.
"I get to color," Keith said.
Fourth-grade teacher Niki Rheuport and fifth-grade teacher Holly Bohardt sponsor the club.
"All kids love art," Rheuport said.
The two teachers base each meeting on a particular artist. After giving the children biographical information about the artist, the two teachers lead the student on a project based on the artist's style and medium.
The materials change from week to week. In the past, the two teachers have brought out watercolors, and even considered using clay.
For the lesson on O'Keefe, Rheuport instructed the students on the basics of shading as they copied the sunflower design.
After finishing a large yellow petal, third-grader Sydney Pickardt said she approved of the subject matter.
"I really, really like sunflowers," Sydney said.
The club also offers students the opportunity to relax after school.
"It gives people a break from the assessments," Rheuport said.
West Elementary students took the state's mandated reading and math assessment tests at the end of March.
In addition to giving students the chance to be creative, the art club offers them a larger advantage, Bohardt said. It exposes them to artists and styles they might not otherwise get to see, she said.
Like the other clubs the school offers, it gives students the opportunity to focus on subject areas normally cut out during the course of a normal school day.
Both Rheuport and Bohardt led a similar club last year.
The club fillled up quickly this year, Rheuport said.
Although the art club had limited spaces, each student who wanted to attend an after-school club at West had the opportunity to do so, Bohardt said.
Brenna said she the hands-on projects part were her favorite part of the art club meetings.
"It's fun to use the oil pastels but it hurts your fingers after awhile," she said.