Life in watercolor
Pastor's wife teaches students painting while earning money for new building
Watercolor instructor Sheila Wood harnessed the instructional power of a banana Saturday afternoon for her introductory class.
Six students busily dipped their brushes in water and tried several techniques to capture the essence of the potassium-filed fruit. The group tried dry washes, wet washes and learned how to accentuate the banana with both pencil and ink.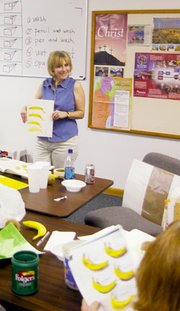 "It doesn't have to be yellow?" Carla Neifert asked before Wood directed the students to try the techniques.
The class is open to all, although her students Saturday attend First Southern Baptist Church, 1103 Main St. -- where the class convenes and her husband, the Rev. Kevin Wood, is pastor.
Wood formed the class over the course of last month at the request of congregation members.
"I thought 'Why not?' I like to teach and I love to watercolor," Wood said.
She teaches two sessions each Saturday. Her second session from 1 to 3 p.m. is full, but she has spots open in the morning class from 11 a.m. to 1 p.m.
She began the class on the July 28, and is still leading the students through the basics. Soon though, she has plans for future lessons including roses, portraits and landscapes.
Wood said she had a personal fondness for landscapes, both painting from a photograph and painting them live.
"Kansas and Texas, that's what it's all about ---- the sky," Wood said. "There are so many interesting effects you can do with color in the sky."
Wood used the latter part of her class period to give the students a chance to practice what they learned
As they paint, she moves from painting to pointing out what she likes.
She took a paper and held it in front of the students several times Saturday, to help give them perspective.
"I want you to watch your banana bleed into your background," she said as she was explaining the wet-on-wet technique.
Her students Saturday varied in experience.
For Sandy Scubelek, the class was the first time she tried painting.
"This is just fun," Scubelek said. "I appreciate it a ton, even if I'm not good at it."
At the other end of the table, Pat McGrew said she had experience painting in oils, but never watercolor.
"I just wanted to try a new medium," she said. "Plus, I just get to be around people I like being around."
Classes are $10 per lesson, and all proceeds go into the "Building His Church Together Fund." The fund is to help pay for a new First Southern Baptist Church south of Kansas Highway 10.
"We just have a good time together," Wood said.
She hopes to teach the course throughout the year and eventually move her introductory class up to an intermediate level, she said.
For more information about the class or to sign-up, call Wood at (785) 917-0908.
More like this story