Old friends open self storage in business park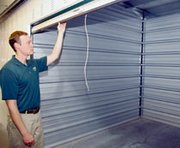 When the idea came to Brent Meyers, he was thinking outside of the box. In fact, he was in his chiropractic office ---- Meyer's Chiropractic Clinic in Lawrence.
During an appointment, one of his patients came to him with the idea of opening a self-storage business off Kansas Highway 10.
In the end, the patient bowed out, but the project caught fire with Meyers.
"I did it, he didn't," Meyers said.
Instead, Meyers contacted his friend Tim McNamara, owner of CNI Advertising in Overland Park, and the two brought the project to fruition.
"I knew it could be a success," Meyers said.
The duo opened ATA Storage, currently a 181-unit facility nestled inside Intech Business Park. The name came from a combination of the names of both partners' sons -- Austin, Tanner and Adam.
"Curb appeal is a big thing for us," Meyers said.
Meyers and McNamara settled on Eudora because of its proximity to the highway, the available space and the surrounding people, McNamara said. The partners also noticed a need for this type of business in the area, he said.
"We just felt Eudora was a perfect place," he said.
After choosing the site, Meyers and McNamara hired an architect and contractor to draft extensive plans for the site. The entire process, including work with the city, went forward without much difficulty, McNamara said.
"So far everything has been extremely smooth," he said. "Once we decided on a site everything has been smooth."
With everything set up and business beginning to trickle in, Meyers and McNamara are already planning for growth. The facility is just in its first phase, McNamara said.
In all, McNamara characterized the facility as being more than a third but not quite half built.
When fully completed, the owners will see more than 500 storage units spanning across the four-acre site. In addition to the storage lockers, McNamara and Meyers have plans to build an office supply warehouse. The duo will also eventually offer an expanded selection of boxes, tape and other storage accoutrements.
Both Meyers and McNamara closely followed the advice of a development team consisting of architect Stan Hernly of Hernly Associates and the contractor, Strickland Construction, when building the complex.
"They were a huge help to us, just with information," McNamara said.
Inside the compound, customers have the choice between traditional and climate-controlled storage areas, which are either 5 feet by 10 feet or 12 feet by 40 feet. The company also offers a truck rental service through Budget Truck Rental.
The partners included aesthetic touches on the facility, like extra-wide driveways and lighted keypads.
"Those who have actually seen our facility have been very impressed by it," McNamara said.
For protection, the owners rely on a 24-hour video surveillance system backed by a generator in case of power failure.
So far, the storage facility has been home to everything from boats to motorcycles, manager Ryan Roberts said.
"It's been pretty calm, no big surprises," he said.
McNamara predicted an upswing in the amount of boats his company will see during the summer months.
"We know that's really popular just because of the amount of people who drive to Clinton Lake or Lake Perry," he said.