Walnut enthusiasts gather for field day at Eudora farm
Wayne Geyer knows what makes a good walnut tree.
Geyer said a good tree is a straight tree, one that grows tall and is free of bugs.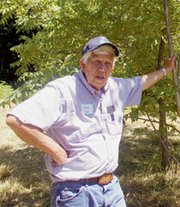 Geyer is a professor of forestry science and Agroforestry at Kansas State University and was a guest speaker at the Walnut Council Field Day Friday.
The council helps landowners bring technical research into practical applications to improve the farming of black walnut trees in Kansas.
Geyer joined a group of scientists, landowners and business people as they gathered at Richard Rodewald's tree farm southeast of Eudora.
The participants talked about how to best grow and market the wood and nuts from the trees.
Black walnut is the most expensive, naturally grown American tree, Geyer said.
"It's the most desirable."
The walnut wood has been popular overseas, especially in Hong Kong, Geyer said.
Organizers chose Rodewald's farm because it was a prime example of how to grow groves of Walnut trees while conserving resources, Geyer said.
Rodewald used a direct seeding method to cultivate his groves.
"If you do it correctly, you can sustain the environment," Geyer said.
In direct seeding, the seeds are densely scattered in an area. Each seed must compete for the available resources. The competition and dense seeding means trees form canopies more quickly, which translates to more successful groves.
It's the same method forests use to form, Geyer said.
The farm has been in Rodewald's family for six generations. On it, he raises livestock and maintains a 280-acre tree farm.
Rodewald planted 80 acres of trees through the Kansas Conservation Reserve Program. The program assists farmers with technology and funds those who look to conserve the natural resources on their land.
He turned to farming after finishing his career at General Motors as a troubleshooter.
He planted the trees as an investment in the future, Rodewald said.
"I think there are some brilliant people here," he said.
The day was divided into four morning sessions and three afternoon sessions.
In the morning, participants learned about Rodewald's direct seeding method and toured his groves.
Other morning presentations covered the collection and storage of tree seeds, the search for a superior Walnut and Geyer's presentation on creating a source for an improved walnut in Kansas.
In the afternoon, they learned how to manage black walnut plantations, how to control fescue and brome in the plantations and how to determine which walnut trees were most valuable. The group also learned how to market their crops.
Between presentations, Geyer walked to freestanding walnut trees and pointed out examples of what makes a good tree as opposed to a bad tree.
The best trees have dominant branches that don't split, he said.
The event drew more than 50 people.
Rural Forestry Coordinator at Kansas State University Bob Atchison called the field day a success.
"I was really pleased with the event," Atchison said. "We had a variety of people there that had over 30 years experience working in their respective fields of forestry."
For more information about the Walnut Council, visit www.walnutcouncil.org.
More like this story