Rally not enough as boys fall to Bishop Ward
It was a fun and emotional journey for the Eudora boys basketball team. Unfortunately for the Cardinals, that journey concluded a little earlier than coach Kyle Deterding, the players and the fans would have liked.
The Cardinals' season concluded Tuesday in the first round of the sub-state tournament as Eudora lost to Bishop Ward High School 56-52 at Kansas City Kansas Community College.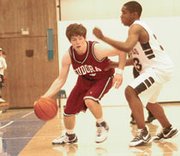 But just because the team's season ended with a loss does not mean that game was a failure by any means, Deterding said. The second-year coach said he saw a team filled with fight, despite the final score.
"I'm just so proud of how our team played," Deterding said. "We gown by a lot, and we buckled down and just got right back up. I am just so proud of our effort."
Although the game would eventually end with both teams fighting for the lead, things did not start out that way. Bishop Ward opened the game with a 3-pointer, quickly stealing the lead. Eudora was unable to bust through the offensive front put on by Bishop Ward. The first quarter ended with the Cardinals trailing by seven points, 21-14.
The difference between the first quarter and each subsequent quarter was like night and day.
Senior Mike Ortega, who contributed 14 points, started the second quarter quickly with a basket.
It was the start of the Cardinals' comeback.
One right after the other, Todd Roberts, Matthew Abel and Ortega traded shots with each other, not allowing the Cyclones to make a basket for six minutes, 30 seconds. By the time the streak ended, Eudora had scored 10 straight points. Bishop Ward's substantial lead dwindled to a single point.
"We just turned it over so much (in the first quarter) and gave them easy baskets," Deterding said. "We finally turned up our energy and turned things around."
Roberts continued the excitement from there by posting two back-to-back 3-pointers. Without missing a beat, Abel stormed through the Cyclone's zone and threw an additional two points onto the score, putting the Cardinals in the lead. Eudora eventually stretched the lead to eight.
Deterding said Roberts and Abel were able to give the Cardinals the lead only because of the whole team's defensive play in the second and third quarters.
"Our defense on halfcourt was good, and we made it tough for them to score," Deterding said. "Offensively, we regained our confidence and made some quick shots, allowing us to get back in the game."
But the Cyclones did not go down kicking and crying. They crawled their way back from the deficit and took a small lead with 14 seconds remaining. Eudora was unable to score, however, allowing Ward to advance in the tournament.
Deterding said he and the team were sad about having to end their season on a loss. But he said they all accomplished so much this season, and for that, they should all be proud.
"We're pretty down, and we should be," Deterding said. "When you work that hard and get that close, it's tough. We've got some hurting bodies. That's good. That means they care.
"They're a good group of kids. They work hard and they do what they're supposed to do."