Bowling fundraiser helps infant death research
Aubrey Brooks wants people to have answers.
Earlier in the year, she lost a child during what seemed like a normal pregnancy. At the time, she had no answers.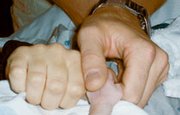 "Everything seemed to be going good," Brooks said.
Her child was moving within her the night before she had a scheduled check-up. She was 31weeks pregnant.
"We went to a general doctor's appointment, and he said there was no heartbeat," Brooks said.
She delivered the baby. The following week, she attended her stillborn daughter, Lorraine's, funeral.
"I don't want to make it seem like my daughter died for nothing," Brooks said.
To prevent that, she organized a fundraising event to help the First Candle Organization. Brooks planned a bowling and pizza event from noon to 2 p.m. Sept. 16 at Royal Crest Lanes, 933 Iowa St., in Lawrence. Tickets are $15. Advanced notice is requested for those planning to attend. The event includes two hours of bowling and two slices of pizza from CiCi's in Lawrence.
The fundraiser marks the first time Brooks has tried to gather community support after the incident.
"I just want to kind of see where it's going to take us," Brooks said.
At first, she looked into creating a foundation in Lorraine's honor. Instead she tried something smaller. After visiting, First Candle's Web site, she found an answer.
"I just got online and kept looking and multiple people told me it was a reputable organization," she said.
Brooks hasn't had much response from the community so far, she said. Part of the reason might be because few people know what the organization is about, she said.
"People work hard for their money so they want to know it's going to somewhere that's good," she said.
First Candle gives 90-percent of what it collects to help fund medical research and raise awareness about SIDS and Sudden Unexpected Child Death.
The money directly funds research conducted under the Medical and Scientific Advisory Council. The organization's work also includes advocacy and grief support.
The non-profit organization has gone through several incarnations, but began as an alliance of people working to stop and provide comfort to those suffering from the aftermath of Sudden Infant Death Syndrome. The group changed its name about three years ago to First Candle when it expanded its emphasis.
"It's a sign of hope in the darkness," First Candle public affairs director Laura Reno said.
The organization's goal is to help all children have the opportunity to reach their first birthday and beyond, she said.
Brooks wrote a letter containing a description of the pain she felt after losing Lorraine and why she's organizing the event.
"This is such an important event because losing a child is absolutely devastating and not receiving an answer as to why it happened is as painful as leaving your baby at the hospital," Brooks wrote.
For more information or to attend the event, call Brooks at 542-3236. Donations are also welcome, Brooks said. Checks can be made payable to First Candle.
The First Candle Organization can be found on the Internet at www. firstcandle.org.