Girls get defensive in 63-23 rout over Prairie View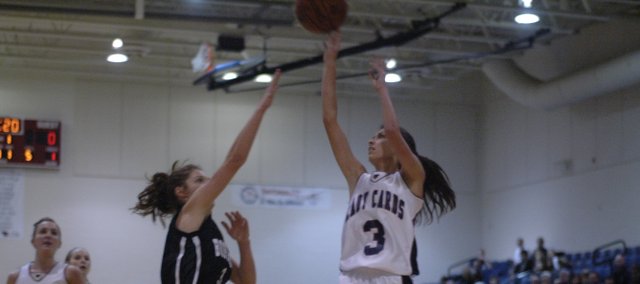 Eudora coach Ryan Luke wasn't too happy with his team's half-court defense through Eudora's first five games.
So what did he instruct his team to do on the first possession of the game against Prairie View Friday night at Eudora?
Swarm the Buffalo with a full-court press, of course.
Eudora's defensive pressure caused havoc all night long, and the Cardinals cruised to an easy 63-23 win.
"Our pressure was good today and it hurt them," Luke said. "That's really the name of the game for us. That's what we like to do. We like to get out and pressure and make things happen. It really gets us going offensively when we can get up and pressure like that."
Luke said it wasn't his team's half-court defense he was a little upset with but rather it was attitude. Eudora's pressure helped the Cardinals to a 17-2 first quarter advantage.
"When we sit back in our halfcourt we tend to take that attitude into our offense, which is really not what we want," Luke said. "We were aggressive and it paid off for us."
Bailey Scott and Rachel Pyle were in the passing lanes all game. Scott scored 15 points and hit two three-pointers, and Pyle added nine points to lead Eudora's backcourt. Both Scott and Pyle scored numerous times on easy layups, and also assisted other Cardinals on easy shots inside.
"We have some good guards that are relentless as far as pressure and anticipating passes and doing those types of things," Luke said. "We have some good quickness and good speed. That's one of the reasons why we like to use our pressure."
Eudora also got a boost from senior Kendal Abel. Abel, who is coming back from an injury, scored six points in the opening frame and had 11 in the game. Abel also got her hands in the passing lanes on defense.
"I thought she was the most explosive I'd seen her so far this year," Luke said. "We're excited about her getting back. She's going to be a good scorer for us when she gets back to 100 percent and I think by the end of the break she will be."
Luke said the easy win was beneficial because some younger kids got to log a few minutes of playing time.
"That's always good for us because we'd really like to develop some depth for us as we go through," Luke said.
Haley Epperson led Eudora (5-1) with 20 points. Epperson said the little attitude adjustment on defense could be a positive one.
"We came out ready to go looking for a win before break," Epperson said. "So it was a good way to end the break."
The Cardinals will return to action Jan. 9 at Baldwin. Sprinkled in-between for the players will be 10 days of practice. Luke said he didn't necessarily like having that long of a break with his team playing so well. But he said the team needed a little time off to heal a few injuries and implement a couple wrinkles into the team's playbook.
"It's going to be nice to have 10 practices," he said. "It'll be nice to work on some things."
More like this story