The year's top sports stories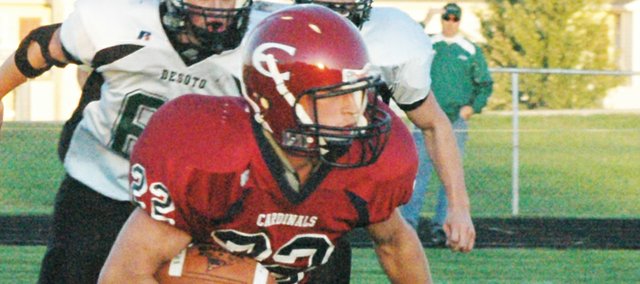 No. 6
Running down a dream
His final statistics for the year are eye-popping. He's a sure All-Frontier League first team pick at running back. Ryan Fisher's final season and Eudora High School career may be remembered in Cardinal football lore for a long time.
"I thought I had a pretty good year," Fisher said. "I just wish I didn't get hurt and miss that one game. My goal for the season was to get 2,000 yards and I came up just short of that. Other than that I'm fairly happy with it."
Fisher was a workhorse all season for Eudora. He literally carried the Cardinals and defenders on his back the whole year. Fisher's 264 carries this season are proof of that. He averaged a whopping 33 carries a game. He ran for 1,826 yards, averaging nearly seven yards a carry. He rushed for 20 touchdowns.
Fisher's speed, vision, ability to break tackles and toughness are characteristics that made Eudora coach Gregg Webb describe him early in the season as "the best back in our league."
No. 7
Girls run to 13th place finish at state meet
Everything is a little bigger in the last meet of the year.
At state the stadium is larger, the lights shine a little brighter and the competition is the best anyone has seen all year. Eudora sent multiple athletes to Wichita for the state meet, and while not everyone scored points, there were a couple of performances for the record books.
Emily Ballock completed a career sweep of the 300-meter hurdles by winning her fourth straight state title, and Allison Hoover set a school record in the pole vault.
The girls team scored 16 points to finish in 13th place. Ballock had a hand in 15 of those points. The senior won the 300 hurdles, helped the 3,200 relay team place fifth and finished sixth in the 100 hurdles.
She also ran in the 1,600 relay, which fell two places shy of qualifying for the finals.
"The team has been inconsistent all year, I've been on and off and other girls have been on and off, but I think we surprised some people by qualifying out of regionals," Ballock said. "We came here and just represented Eudora and ran hard and it's too bad we couldn't make finals, but I'm not disappointed at all, I'm happy with us."
Winning her fourth state crown was a relief for not only Ballock but also coach Phil Katzenmeier.
"History will tell how great of an accomplishment that was," Katzenmeier said.
In the pole vault, Hoover cleared 10 feet, 6 inches for a new school record.
"It felt great," Hoover said. "I've been jumping the same height for three years, and at regionals I broke the school record and here I just broke my own record. I've worked hard for it."
Hoover jumped a then-school record 10-00 at the regional meet to qualify for state, and despite her improved height she finished outside of the scoring positions.
"She exceeded my expectations, but the whole field did," Katzenmeier said. "I felt like there were going to be some people that make 10 feet and place and some that don't, but you had to make 10-06 just to place."