Eudora
USD

491 receives federal grant
$750,000 to be used to improve quality of life of community children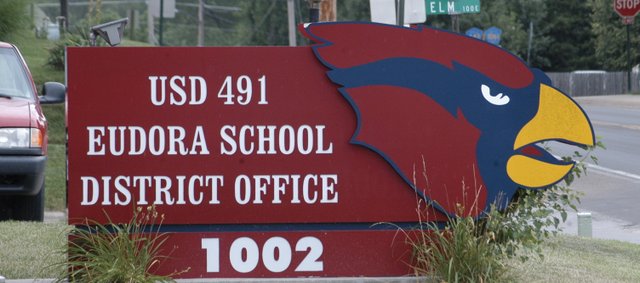 A community effort paid off for the Eudora USD 491 when it received word Wednesday the U.S. Department of Education had awarded the district a four-year $750,000 was awarded a four-year $750,000 grant from the U.S. Departments of Education, Justice and Health and Human Services.
The grant was part of $74 million in grants awarded to 27 different states as part of the Safe Schools/Healthy Students Initiative. USD 491 was the only school district in the state of Kansas to receive the grant.
The district applied for the grant in March after discussing it at a meeting in late February. That meeting was attended by 23 representatives from various organizations, including members of the Bert Nash Center, the Eudora City Council, the Eudora Chamber of Commerce, Douglas County Youth Services, the Eudora School district and the Eudora Police Department.
The proposal that emerged from the joint effort aligned with the goals of the grant to improve the quality of life of community children in specific areas. Those areas are:
¢ Safety and violence.
¢ Drugs and alcohol prevention.
¢ Behavioral, social and emotional supports.
¢ Mental health services
¢ Early childhood and parenting programs.
Grosdidier, who began in his duties Tuesday as the district's superintendent and was assistant superintendent of curriculum and instruction when the grant was written, said in February participation a joint approach would be necessary to be successful.
"Safe schools are not just about what goes on inside the walls of a school during a school day; it's about what goes on in the community," Grosdidier said after the meeting. "It's a cliche that it takes a village to raise a child, but that's what this is all about - bringing all of these people together and identifying where the gaps exist within our community and then setting some goals and coming up with some programmatic ideas that the grant could fund."
Grosdidier said after-school programs were possible uses for the grant and could begin this fall.