2 for 2 pleases coach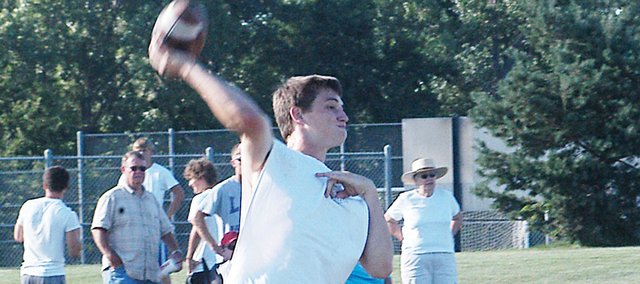 A team can't win the state title or even a single regular season game in June. But the foundations for fall triumph are laid in the summer and on the last day of June, coach Gregg Webb's team took a large step towards victory.
Last week's results in the 7-on-7 passing league weren't exactly what Webb was hoping for and he knows exactly why it happened.
"Some nights you just can't complete a pass, and in 7-on-7 when that's the case you have no chance," Webb said.
This time around the offense was sharp, the defense was quick and aggressive and Webb saw glimpses of what his team could be when it adorns pads. Eudora won both games, improving its record to 3-2-1.
Drew Noble started at quarterback in Eudora's first game against Ottawa, and one play after converting on fourth down he threw his first touchdown of the night.
The Cardinal defense was on target from the get-go as Evan Cleveland made the first of three consecutive interceptions on the ensuing Cyclone possession. The second and third picks in that series, made by Tanner Byrne and Cleveland again, were both on the first play of Ottawa's offensive series.
Noble misfired a couple of times on his second and final series of game one.
Cleveland went under center next for the Cardinals.
He hooked up with Brian Dudley on a fade route to put Eudora up 2-0, then after throwing an interception handed the quarterback reins to Zach Bryant.
Bryant, Webb said, is the wild card in Eudora's quarterback race. Bryant didn't play football last year and has gone back-and-forth between Eudora and Wichita, but he's signed up and ready to suit up for the Cardinals this year.
"That gives us another option," Webb said. "It's a good problem to have and I like the competition."
Bryant threw two touchdowns, one to Dudley and another to Cleveland, but more impressive were his deep passes to Dudley and Christian Richardson. Each one was an on-target bomb, and the receivers also showed their skills, catching them in traffic.
"I was really impressed with our wideouts catching the football," Webb said. "Last week our quarterbacks didn't even get the wideouts a chance to catch it.
"I feel way, way better than I did last week."
Eudora's defense surrendered a touchdown on the final play of the game to make the score 4-1.
In the second game Eudora played Shawnee Mission North and continued to have its way.
Bryant threw another deep pass to Dudley for a touchdown, and then Noble stepped in and hit Dudley with a fade pass for the Cardinals' second score.
However, not everything went according to plan as Cleveland came up limp after swatting the ball away in the end zone about midway through the game.
"Watching the play develop I thought for sure that was a touchdown," Webb said. "He came in, made a great play and I think he strained the bottom tendon of his foot. We're not sure exactly what it is, we just hope it's nothing serious."
Cleveland sat out the remainder of the game, but the Cardinals continued to roll.
Webb said he will continue to shuffle quarterbacks throughout the summer to try to find the best fit, and he's also not afraid to use two or even three different quarterbacks if that gives his team the best chance to win. And that's not the only undecided position.
"It's a crazy thing," Webb said. "You go home one night and you're saying 'Oh my gosh, what are we going to do?' because there's so many question marks. Then the next night you come out here, you do pretty well and you're feeling pretty good about yourself, you leave with a smile on your face.
"It's an emotional roller coaster."