Durkins Hardware gives away $1,000 shopping spree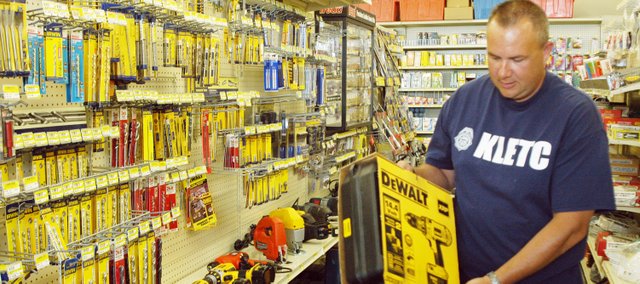 When Mike Underwood signed up for a $1,000 shopping spree at Durkin's Hardware, he didn't think much would come of it other than some phone calls from someone trying to sell him hardware.
He was more than happy to have been proven wrong Thursday.
"It's one of those drawings you sign up for and expect to get a call from a telemarketer, but in this case it was a call from John (Durkin Jr.) telling me I'd won," Underwood said.
Underwood signed up for the drawing in Durkin's spring catalog. He said he and his wife, Jacque, planned to buy a patio set, a barbecue grill and supplies to finish some landscaping in front of a retaining wall.
Underwood, who is a policeman in Eudora and also is a volunteer firefighter, is a woodworker and builds cabinets for the firehouse.
He said he makes a point of shopping at Durkin's because it is important to him to support local businesses.
"I think it's important that people know that instead of driving to Lawrence, come here because it makes a difference for our town and for these guys, too," Underwood said.
The shopping spree was a first for the hardware store, which has been in Eudora for about four years. The decision to begin offering the shopping sprees, which will occur bi-annually, came as a result of wanting to generate interest in their catalogs.
The economy has not necessarily been great for Durkin's. And, like most businesses, rising shipping costs have led to some price increases. But the shopping sprees are a way for them to reward customers for their patronage.
"I don't know of many local business owners that aren't struggling one way or another because of rising fuel prices or the housing slow down, and consumers ultimately bare all expenses," Durkin said. "But we thought that instead of spending on advertising, this would be a nice way to give directly back to the community."
The next shopping spree will be given away around Christmas time and those interested can sign up now.