Judge allows water district to amend complaint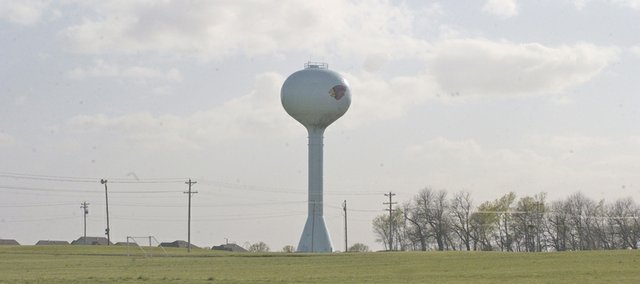 The city of Eudora suffered a setback Thursday when Federal Judge David J. Waxse granted an amended complaint for damages to again be included in Douglas County Rural Water District No. 4's lawsuit against the city.
The amended complaint states the city has annexed land that would be served by the district and also has not only communicated with, but threatened developer Doug Garber with deannexation if he signed on for water service from RWD No. 4.
Garber, whose land sits in the area in question, testified in a deposition hearing Feb. 26 City Administrator Cheryl Beatty made a veiled threat to him during a phone conversation.
Beatty denies any threat was made. She said she and Garber were discussing different options for him to move forward with construction and Beatty told Garber one of those options was deannexation. However, she said it was not a threat but rather one of the many ways that would allow him to start developing the land.
"It was not a threat," Beatty said. "It was just a conversation we were having about possibilities and 'what-ifs.' It was never meant to be a threat because I said the city and Mr. Garber could choose to deannex. I said that was one of the options."
However, the decision stated "The court is not convinced that Mr. Garber's testimony indicating the City's communications were not the reason behind his decision to forego purchasing water from the Plaintiff. ..."
Furthermore, the decision stated, "... keeping in mind the Court's preference for making decisions on the merits, rather than pleading on technicalities, the Court believes that the interests of justice are best served by allowing plaintiff to amend its complaint."
While it certainly was viewed as a positive decision, water district officials know the case is nowhere near finished.
"I don't think this case is over by any stretch," water district administrator Scott Schultz. "There's a long road ahead and neither side has proven anything. It's just so temporary - the judge could throw it out in summary judgment.
Summary judgment is when the merits of a case, or specific parts of the case, can be decided by a judge before a trial begins.
Eudora has annexed into the city in recent years property south of Kansas Highway 10 along Douglas County Road 1061.
As a result, RWD No. 4 filed a lawsuit against Eudora in September in U.S. District Court of Kansas City, U.S. District Court of Kansas City, Kan. under a federal law - 7 U.S.C. section 1926(b) - that states as a result of borrowing money from Farmer's Home Administration, the district is protected from a municipality or private entity that would curtail or limit the district's water territory or customers.
The complaint, which refers to the city paying the district's court costs, was dismissed by Judge Julie A. Robinson March 13 because RWD No. 4 had to show there was "curtailment or limitation of service" on the part of Eudora preventing the provider from its right to sell water.
The city claimed though they have "sought to compel" RWD No. 4 to sell its property and allow the city to serve residents in the 153-acre territory, there has been no "curtailment or limitation."
The court essentially stated the district made allegations in response to the dismissal that should have been included in its lawsuit and "because the Court is not obligated to look elsewhere to find a valid claim, it does not do so in this case, and the motion to dismiss is granted."
Because of the change to the case, the trial date was moved back 60 days from Nov. 13 to Jan. 13, 2009.
Motions for summary judgment are Aug. 8.
The case currently is in the stage of mediation and the city is putting together a settlement to present at the next meeting, for which no date has been set.