Bitter sweet victory
Cardinals take down Bulldogs but knocked out of playoffs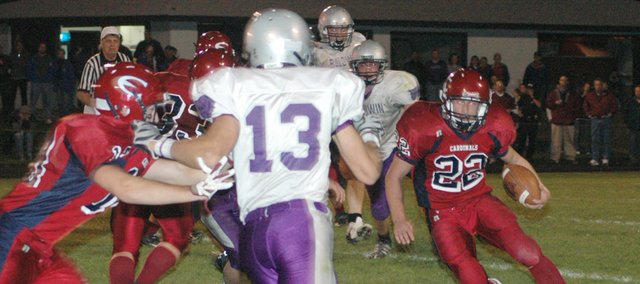 In victory, the Eudora Cardinals sat in stunned silence in the locker room after the game. They're 35-28 win over Baldwin on Senior Night was not good enough to get them into the playoffs.
Not good enough by one point.
The Cardinals had to win by eight to get in the playoffs, and if they had won by 10 points they would have been district champs. They had both in their grasp for a time but fell one point short.
"Oh, it hurts," Eudora coach Gregg Webb said. "I feel bad for (Ryan) Fisher and Cody (Carlson) and William (Gadberry) and all the seniors who deserve to be playing some more.
"And Tuesday we should have been playing here against De Soto and we could have won our district. But things don't work out."
Eudora had just taken a 35-21 lead on a 54-yard touchdown run by Ryan Fisher with 5:39 to play in the fourth quarter. The Cardinals were headed for a district championship and a Tuesday night playoff game at home against De Soto.
On Baldwin's ensuing possession, Bryan Dudley picked off a Sam Beecher pass and everything was going Eudora's way. The crowd erupted; the Eudora sideline was energized. It seemed a district championship banner would soon be theirs.
The Cardinals drove deep into Baldwin territory and was running out the clock. But a mishandled snap cost Eudora about seven yards and Eudora eventually turned the ball over on downs.
Beecher then went to work through the air. He completed five passes and drove the offense to the Cardinals goal line. On fourth-and-goal from inside the one-yard line, Beecher scored a touchdown with 21 seconds to play, and the PAT sealed the Cardinals fate. The Cardinals won the battle, but their season would end on a heartbreaking touchdown.
"We gave up some silly plays, but they're a good team," Webb said. "They weren't 7-1 for nothing. But we found a way to get ahead by the number of points we needed and they put together a drive and we would not stop the out."
Perhaps overshadowed by the somber setting afterwards was the steamrolling Eudora offense. Eudora lineup in the shotgun most of the night with Fisher playing quarterback. Many times he took direct snaps and ran for huge gains.
Behind powerful blocks by Colton Lynch, Cody Carlson and Matt Schultz and the rest of the Cardinals offensive line, Fisher gashed the Baldwin defense for 443 yards on 49 carries and five touchdowns, including an 87-yarder.
"He's a great player, a special player," Webb said. "We put some formations out there that we thought would be successful and they were."
By halftime Fisher had racked up 183 yards on the ground. He also completed two passes for 40 yards in the first half. He bettered those numbers in the second half, rushing for 260 yards.
"It's really disappointing to have such a great game that we did and you still come up short by just one point and having to live with that now," Fisher said. "But you can't really dwell on it. And you have to move on and hope for the best."
Fisher and many of his teammates left the locker room in tears. Fisher and fellow seniors Zane Pittman, Bryan Kindle, Ethan Becker, Bryan Dudley, Max Campbell, Zach Bryant, William Gadberry, Logan Alvarez and Cody Carlson all played their final football game for Eudora.
The Cardinals ended their season at 4-5 and 2-1 in the district.
"To beat Baldwin is a big deal," Webb said. "I'm so proud of our kids.
"And it did show that we were way better than what our record indicates. That's the frustration I found all year because that's the potential I saw all year."