Cards played big in '08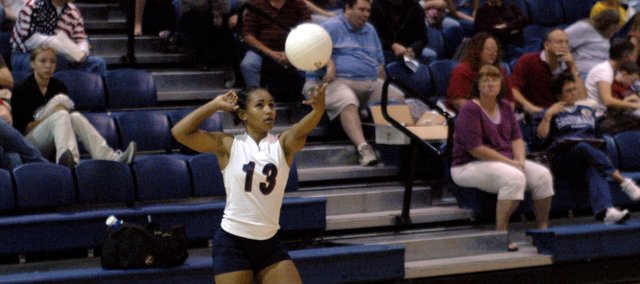 To say that the Eudora Cardinals volleyball team played bigger than it actually was this year might be an understatement. The team had little height, but that shortcoming wouldn't stop them.
"We weren't a tall team so we had to make up for it with being scrappy on the defensive side," Eudora volleyball coach Jill Stutler said. "We outlasted teams because of being scrappy and with long rallies."
The Cardinals — with their tallest player about 5-foot-5 — went on a seemingly improbable run and came within a whisker of the state tournament. That run ended at home with a loss to Bishop Ward in the championship match at sub-state. It wasn't the ending the Eudora Cardinals wanted. They wanted the season to end at Salina with another state championship.
"We asked the girls every day to practice like they were going to play so that it became second nature to go all out," Stutler said. "Sub-state day they truly embraced that desire that it takes to leave it all on the court. It was an incredible day with a big win over Tonganoxie, and even though we fell short against Ward they left it all out there on the court."
The Cardinals opened their season by winning three matches against Baldwin, Basehor-Linwood and Bonner Springs. The Cardinals then struggled at times midseason but bounced back. Eudora finished in third-place at the Wellsville tournament and league tournament. Eudora also beat Bishop Ward twice during the season.
The Cardinals will lose five seniors — Kendal Abel, Mariah Webb, Tianna Dunnaway, Miranda Cobell and Heather Goodlett.
"We can't thank them enough for all their hard work and determination that they have brought to the program," Stutler said. "They have left big shoes to fill. We will miss them all."
Abel was an all-league first team selection, and Webb was an all-league honorable mention pick. The Cardinals could achieve similar feats next year — and perhaps more — as the younger girls on the squad gained valuable varsity experience. Key returnees on next year's squad include Alex Mott, Shea Lounsbury, Jennifer Bowser and Morgan Wiley.
Though the season didn't end with a state title, Stutler is already looking forward to seeing the 2009 Eudora Cardinals. She said that her returning players would remember the feeling they had after losing to Bishop Ward and would use it as motivation for next season.
"The sky is the limit when they work hard," Stutler said.