Cardinals fall at home 35-21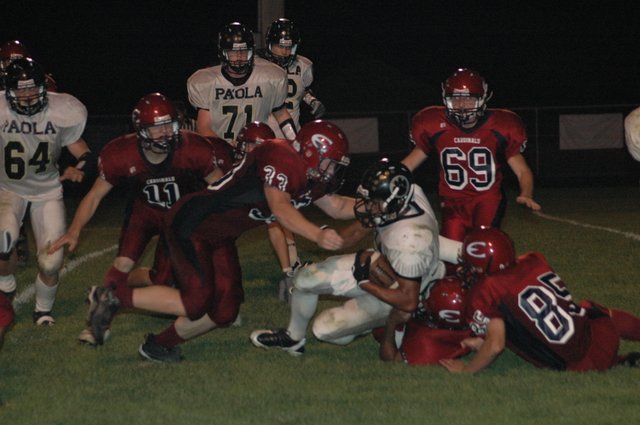 Take away the first seven minutes and Eudora was in the game. But during those opening minutes, Paola jumped out to a 21-point lead on a lackluster Eudora squad.
Eudora looked out of sync from the start. Eudora had to call a timeout before the first play because it wasn't in the right offensive set. Eudora fumbled the snap on second down but recovered the ball and punted on fourth down. Paola tailback Skylar Hawkins soon capitalized and scored a 20-yard run to give Paola the early lead.
On its next possession, Eudora bobbled a snap back to the punter and Paola capitalized again, boosting its lead to 14-0. Hawkins would again score on a 28-yard run to give Paola a 21-point lead with 5:36 remaining in the opening quarter. The Panthers never looked back, and the Cardinals couldn't makeup the deficit and lost, 35-21, Friday night at home.
Ryan Fisher returned from a shoulder injury that kept him out of last week's game. Fisher racked up 172 yards on 26 carries and scored one touchdown. But Paola's Hawkins bested those numbers. Hawkins had 138 yards and three touchdowns in the first half and finished the game with 27 carries for 239 yards and four TD's.
Eudora (2-2) trailed 28-7 at the half but began to claw back in the second half. Eudora forced Paola to punt on its opening drive, and Eudora marched down the field and scored on a 35-yard run by William Gadberry. The Cardinals missed the PAT and Paola answered that score with a 3-yard TD run by Hawkins.
Evan Cleveland scored on a 1-yard plunge early in the fourth quarter but Eudora couldn't score again. For the full story, read Thursday's Eudora News.