5 Questions: Stylist loves friendships she has formed with clients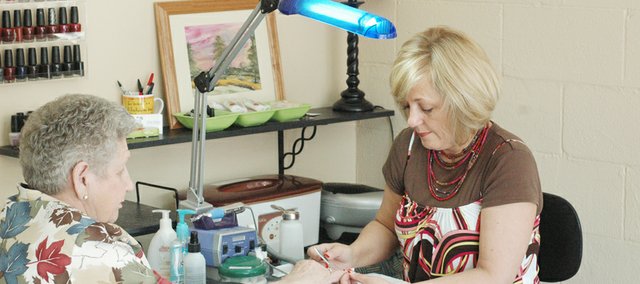 Hair stylist and nail technician Diane Elmer recently opened Heads or Nails Family Salon, 713 Main St. She has been in the business for about 28 years.
The salon is open from 10 a.m. to 8 p.m. on Tuesday and Thursday; 8 a.m. to 5:30 p.m. on Wednesday and Friday; and 8 a.m. to 1:30 p.m. on Saturday. For more information, call her at 785-690-7272
Q: What made you want to become a hair stylist?
A: I like making people feel better about themselves by enhancing their natural beauty.
Q: In these economic times, what made you want to start a new business?
A: I have a strong clientele and as long as I keep my prices affordable, people will come.
Q: What types of services do you offer?
A: I do pedicures, acrylics, manicures, hair, coloring, permanents, eye brow waxing, up-dos; I'm pretty much full service.
Q: How often do you find that you develop friendships with your clients?
A: Some of my best friends have were clients first. My customers lose spouses or have situations in their families and sometimes they call me up to talk about those situations, just as a friend.
Q: What are some of your favorite things about this job?
A: I love the interaction with the people and all of the different personalities. You learn different things about people and their lives and you are able to become friends.
It's great to come to a job that you love everyday.