5 Questions: Oh tannenbaum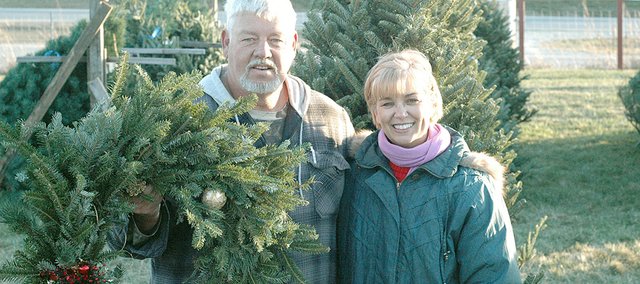 Rose House talks about buying a Christmas tree and her favorite parts of running a Christmas tree lot that not only features trees and wreaths, but also a family friendly tree-purchasing experience with candy canes for the kids, homemade Christmas cookies, hot chocolate and, weather permitting, a campfire.
Q: What are a few things to keep in mind when buying Christmas tree?
A: The size of your space to put the tree and whether you prefer a short needle, soft tree like a Fraser or Balsam fir; the more traditional Scotch pine; or perhaps a long needle, soft tree like a white pine. We keep records from year to year of our customers, and if they come and say, "I love what I had last year, but I don't remember what kind it was," we can look up the size and kind of tree from the previous year.
Q: How can people keep their tree fresh once they get it home?
A: We cut the bottom inch off each tree and net it for easy transport as well as ease of getting it in your stand once you get it home. Because a tree starts to dry out as soon as it's cut, the cut on the trunk allows it to drink water from your stand. We recommend getting the tree in a bucket or tree stand within an hour of cutting that inch off and making sure that they are well watered. A tree can drink up to a quart or more or water the first few days, and if they are allowed to go dry, the bottom will seal up and they will not take on any more water and will dry out more quickly.
Q: What are a few safety tips?
A: Make sure you use cool burning lights and follow the manufactures' directions on how many strands to link together. Don't overload your circuits and make sure any extension cords you use are not frayed or damaged.
Q: What do you think people like about buying a real tree?
A: We have seen a lot of people the past two years who have never had a real tree and have been touched by economic concerns. They cut down on spending at the mall and have a more "hearth and home" experience. We love to help people experience the fun and fragrance of a real tree.
Q: What is your favorite part of selling trees?
A: We have about 50 percent of our business from out of town. We have some families that have been coming back since our first year and we enjoy seeing the babies in arms come back as teenagers and young couples come back through the years with new babies in tow. We've made a lot of friends during these past 12 years and enjoy sharing our hometown with them. People come buy a tree from us and then grab a pizza at Gambino's or head to Jasmine's for great food.
More like this story