Culinary arts instructor is teacher of the month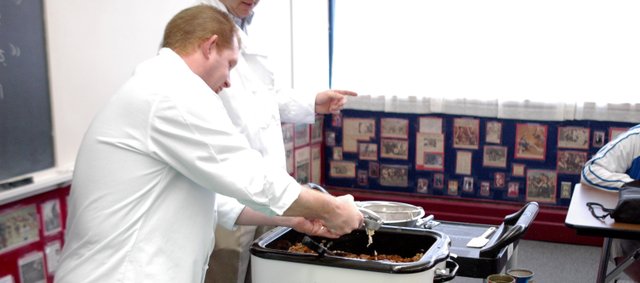 To say that Jason Gray, who is a culinary arts instructor at the Eudora-De Soto Technical Education Center, is enthusiastic about teaching is an understatement. In fact, to say it's an understatement is an understatement.
As he moves about the classroom and kitchen he speaks with emotion, constantly reinforcing lessons by reminding his students that what they're learning will help them if they decide to choose a career in the culinary arts.
"He knows what he's talking about and he keeps everyone motivated," Eudora High School senior Austin Abram said. "He takes a lot on his shoulders and makes it easier for other people, even if it means spending extra time after school."
Gray's ability to keep his students motivated and engaged led his peers to vote him the Eudora Chamber of Commerce's Teacher of the Month for January.
"I just do my job, but the recognition is well received," Gray said. "There's a lot of other teachers I work with who deserve it as much as me, if not more."
Gray also said his students and the staff throughout the district are to be credited for his winning the award.
"What also helps determine whether a teacher is going to be successful or not has a lot to do with the support that they receive and the kids that they have in class," he said.
He knew in high school that he wanted to be a teacher because of the ability of his teachers to personalize his education.
"I didn't have all kinds of special gifts, or talents or popularity," Gray said. "I went to a really large 6A high school, but I felt like I was a person and I wasn't just some other kid. And it was the teachers that made me feel that way."
However, Gray's path to becoming a teacher was less than traditional. He spent nine years working in the restaurant industry before taking a job as a culinary arts instructor in 1997 with the Olathe School District.
He began teaching in Eudora in 2004.
Gray's life outside of school is hectic, to say the least. He coaches basketball at Eudora Middle School, sits on various teaching boards and has a wife, Kimberly, and three kids, in 13-year-old Lauren and eight-month-old twins Cooper and Fisher.
"I like to be busy and I've always been that way," Gray said. "I've always been go, go, go. I'd like to slow down a little bit, and I have since the twins were born."
He said the only time he is really at peace is on his lawnmower, but even then he's thinking about work.
"He's such a committed person to his program and loves to see student success," said Ron Abel, E-D TEC principal. "Any time you can get a teacher who is that dedicated to kids and also thinks his program is such a worthwhile thing for kids to be involved in, you can't get anything better than that."
More like this story