EHS

names teacher of year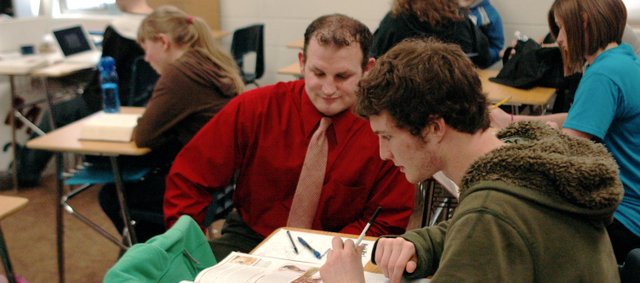 Eudora High School social studies instructor Bill DeWitt was named the EHS teacher of the year.
He is the head wrestling coach and has been teaching in Eudora for seven years, and for 11 years overall.
Q: What was your response to winning the award?
A: It was pretty cool. You're always grateful when you hear those things because it's not a profession that's based on bonuses or vacations in Tahiti or things of that nature. You do have a lot of students who come back and tell you they appreciate the things you did and when your colleagues pat you on the back you appreciate those things.
Q: What made you want to start teaching?
A: I wasn't one of those kids who went to school and always wanted to become a teacher. I just kept an open mind when I went to college and when I finally got up here to KU and had a chance to visit classrooms, I think that really clicked and went from there.
Q: Has coaching made teaching more enjoyable?
A: I encourage any teacher to coach or do some other activity because you get to see those kids in an entirely different kind of realm. It's almost more personal outside of school because you're spending three hours a day plus tournaments. That can really break the cycle of five days of school then weekend and then five days of school.
Q: What is your favorite part of teaching?
A: I think it's the fact that I've never woken up in the morning hated that I have to go to work. I get tired like everybody else, but I've never had that anxiety and always felt that every day is a new day.
Q: Are you still learning?
A: I have to. The kids are different and each year is different. They're exposed to new things and so its important for me to learn about technology and pop culture and the things that they're into. And I'm also finishing my master's, so I'm getting close to the point to learn just for the sake of learning.