Sweet Senior Night
Cardinals sweep rival Bulldogs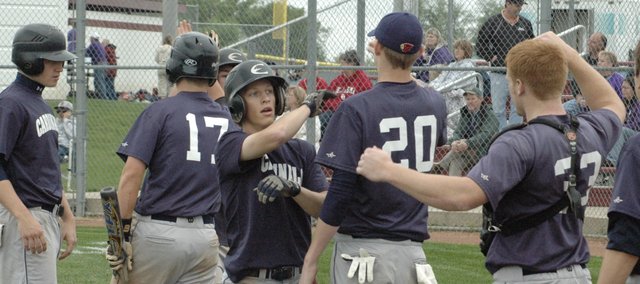 Photo Gallery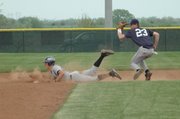 Eudora baseball vs. Baldwin
Eudora senior Jackson Wiley was down in the count two strikes, but he wasn't going to give in. Not on Senior Night, and especially not against rival Baldwin.
"I was just thinking, I'm not going to get beat. I'm not going to beat. He's not going to get it by me,'" Wiley said.
Wiley got a pitch right down the middle and hit a two-run single to right field in the third inning of the first game and followed that up with another single and two RBIs in the fourth inning, and Eudora held on to beat Baldwin, 8-7, in the opener, and won the nightcap, 4-3, to sweep its rival.
Eudora's lineup was senior heavy, and all of them contributed. Senior Craig Harper hit a home run in the first inning, and second baseman Max Campbell was taken out on a hard slide at the second base bag in the top of the fourth inning – an inning in which Baldwin scored three runs to take a 5-4 lead.
Campbell got his payback leading off the bottom of the inning when he crushed a double to deep left field. Campbell advanced to third on a wild pitch and scored on another wild pitch. Seniors Bryan Dudley and Kyle Swanson both walked, and Wiley plated them with a single.
Senior Michael Bricker started for the Cardinals in the opener and threw well, but a few miscues behind him cost the Cardinals some runs. Senior Derek Scrimsher relieved Bricker in the fifth.
Harper started the second game for the Cardinals and got the win, and Dudley got the save. Baldwin scored two in the sixth to cut the lead to one, but Dudley retired the Baldwin hitters in the seventh on two strikeouts and a fly ball to center. The win pushed Eudora's record to 11-5 on the season.
"Of the 16 games we've played, most of them have been one or two-run games," Eudora coach Shaun Edmondson said. "And we've come on the better end of most of those games and there's something to be said for that. You play enough close games it becomes accustom, and we'll continue to grind it out."
In the two years Edmondson has been Eudora's coach, the Cardinals are a perfect 4-0 against Baldwin. Edmondson credited his 11 seniors for their years of dedication to the Eudora baseball program.
"They're a great group," Edmondson said. "They've stuck it out and played Eudora baseball for four years, and there's something to be said for that. They've gone though a lot of adversity and a coaching change and all that, but they're just a great group. They're fun to be around. They deserve a lot of success, and we've won a lot of baseball games this year. But I think each one of them, all of our goals are the same that we want to win when it really matters in the postseason and that's what we're working towards right now."