New administrator Harrenstein to begin work this week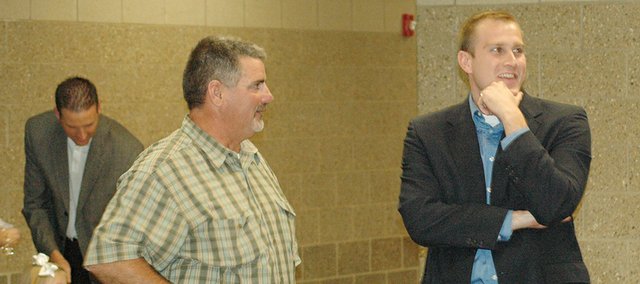 It's all about equilibrium for newly hired Eudora City Administrator John Harrenstein.
He is equal parts sincere affability and professionalism mixed with small-town sensibilities and big-city experience.
"I think that it's important to be professional and articulate goals, but I also think that you need to know the people who these goals are affecting," said Harrenstein, whose first day on the job is Thursday. "A community is made up of many voices and you've got to figure out how each of those voices have a place, and what they tell you about the community."
Harrenstein, whose father was a teacher, first was attracted to the profession of public administration during family trips to museums of history and presidential libraries.
"I thought, 'Hey, these guys made a lot of change, and I'd like to be part of that kind positive change,'" Harrenstein said.
Early in his college career at the University of Northern Iowa, he was unsure of what to study. However, his goals came into focus during his time in an introduction to American democracy class. He told his professor of his interest in the class and was advised to major in public administration.
He graduated with a degree in public administration and organizational communication. He then received a master's degree in public administration from Kansas University.
He also had experiences as an intern for Douglas County Administrator Craig Weinaug and also at the Department of the Interior in Washington, D.C. before becoming a management analyst for Johnson County.
His interactions during those experiences influenced his approach to public administration.
"I saw men work for things that were very needed and important to communities, but maybe were subtle things, and go about it in a way that was professional and not seeking attention," Harrenstein said. "The genuineness with which they approached their jobs, the passion they had for good government and effective governance was something that I was attracted to.
"I saw the difference they made, and I wanted to be part of that difference."
Harrenstein grew up in Clear Lake, Iowa, and said he valued the time he spent in the small town.
"I remember getting to participate in every sport and getting to know all of my classmates," he said. "I remember not being afraid to go downtown to the ATM at 10:30 (at night). I remember knowing the people who you were purchasing stuff from and having a sense of community."
So exactly how will he marry those small-town values with his experiences in larger scale municipalities?
"I don't think there's a formula," Harrenstein said. "The community should be comforted to know that I've been educated by professional folks that understand municipal organizations. But I also come from a small town and understand the values that small towns appreciate that make small towns special places."
In the short term, he said he wanted to get to know the city council; city staff and operations; various community clubs and organization; and, of course, the budget.
His plans for the long term include dealing with the Douglas County Rural Water District No. 4 lawsuit, making sure infrastructure can support growth and understanding the effects of the Tonganoxie interchange.
After the economy improves, he hopes to position the community to continue to grow in a way that doesn't lose sight of Eudora's history.
"The economy is providing a stiff headwind, but we've got a downtown that could provide a good avenue for businesses to come in," Harrenstein said. "We need to be a place where people want to do business, and we need to make sure that we're welcoming and supportive of existing businesses and new people wanting to come in and start up.
"That's not just something that the city can do unilaterally, but it's a partnership between the city, the chamber of commerce and the downtown business association."
When he's not attending to his professional goals, he'll continue his mission to read the biography of every
U.S. president (he's at James Madison). He also enjoys running, fishing, hunting and going to county music concerts with his wife, Angelyn, who is a teacher.
And despite his long list objectives, his primary goal is to lend an ear.
"I'm going to spend a lot of time listening and learning before I try to make any wholesale changes."
More like this story