Almost an upset
Soccer falls to Kaws in second round shootout 3-2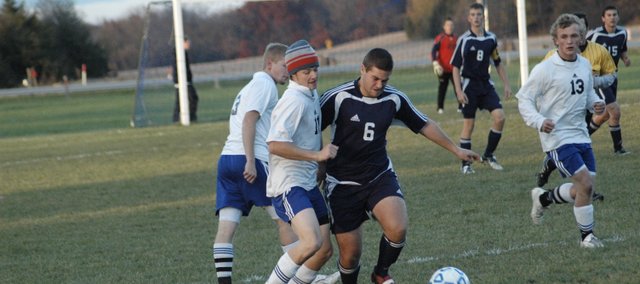 After 110 minutes and four overtimes, a winner had not yet emerged. So to settle the deadlock between Eudora and Perry-Lecompton, a shootout was necessary.
Eudora scored goals on its first three kicks from 12 yards away, but missed its last two shots, and Perry came away with a 3-2 win in the second round of regionals Tuesday night at Perry.
"If 80 minutes is not enough, another 20's not enough, and another 10's not enough, then you're left with a distance of 12 yards to sort it out," Eudora soccer coach Gunar Harmon said. "And that's a lot at that moment. It really is a lot. And I hope they realize the effort they gave."
The Cardinals were so close. So close to advancing to the regional final. Eudora entered the regional tournament Monday as the No. 13 seed in the bracket. But Eudora beat Atchison-Maur Hill 3-2 Monday to advance to Tuesday's regional semifinal against No. 1 seed Perry, a team Eudora had just played to a 3-1 contest last week.
Eudora wasn't intimidated at all, and got on the scoreboard first off a deflected ball midway through the first half. In the second half, Perry came out aggressively and played much of the half in Eudora territory. Eudora held that lead until Perry tied the score on another batted ball at the goal that bounced in with eight minutes to go.
But 90 seconds later Daniel Brauda drove from midfield all the way to the right corner of the box and scored a line-drive into the right corner of the net, pushing Eudora back in front 2-1.
Perry charged back and had several shots late, but Eudora goalkeeper Michael-Shayne Baxter thwarted away those opportunities. But with 1:08 to play in regulation, Perry shot a ball in the right corner of the net, evening the score at two.

Eudora then started to lose its legs in the first overtime, after having played two days in a row. But Baxter and the Cardinals kept the Kaws out of the net for three more overtimes. In the shootout, Brauda, Thaius Boyd and Matt Jump scored on Eudora's first three attempts. Perry, though, answered each time.
On the fourth attempt, Perry blocked Jacob Beck's shot and then scored a goal of its own. Eudora had one last chance to tie the score, but Jared Bruner's shot missed just wide right past the post, and Eudora's season came to an end.
"We fought to the end, so I think it's not a shame that we lost," Brauda said.
Eudora ends the season at 3-14, but there were many positives that came out of this season.
The Cardinals snapped a 21-game losing skid, won a playoff game and tied the school record for most wins in a season. And the Cardinals showed there could be a bright future soon for Eudora soccer.
More like this story