Cardinals westward bound
Sub-state champion Eudora volleyball off to state at Salina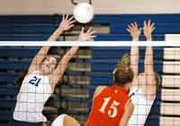 Trailing 24-20, Tonganoxie's senior outside hitter Hannah Heintzelman spiked the final ball of her career into the net, and Saturday's sub-state championship at Eudora was over. The Eudora Cardinals' volleyball team is heading to state, picking up where highly-seeded Eudora volleyball teams, softball teams, baseball teams and basketball teams had all fallen short.
It was a satisfying moment for the volleyball team and the school's athletic program. The sub-state monkey is off Eudora's back. Tonganoxie has been a personal gorilla to the volleyball team lately, knocking the Cards out of last year's championship and this year's semi-finals of the Tonganoxie Invitational.
But Saturday it was Eudora's turn to play the primate. The Cards (33-6) edged the Chieftains (30-9) 25-21, 20-25, 25-20.
"The third time's the charm," coach Jill Stutler said. "We're all in a state of shock.
"I knew it was going to go three games. We made some changes, and some kids buckled down and did what they needed to do. We were scrappier today than we've ever been, and that's what saved us."
There was a scrappiness, a confidence and a relaxed approach that was foreign to preceding teams. Teams in similar situations doing the past couple years have succumbed to playing not to lose. But this young volleyball group had a unique personality.
"I think they realized they could obtain this," Stutler said. "As much as we've been talking for the past couple of weeks we put ourselves on the right side of the bracket, and we battled through that.
"I mean, they just came in relaxed. Yesterday's practice (Monday) was relaxed, and that's a big step for us."
The six-player starting rotation of freshman Nikki Snyder, sophomore Erin Kracl and juniors Kelsey Epperson and Carrie Lister felt the pressure of a top seed and a 30-win season. But the pressure on the two seniors, Brooke Bell and Kayla Moyer, seemed to be greater. That pressure was transformed into determination.
"I don't know if there was much pressure," Moyer said. "We just wanted to be the team that did it.
"For me being in all three sports (basketball, softball and volleyball) and losing so close every time, I just didn't want to leave without doing it."
Bell echoed her fellow senior's sentiments.
"I think just the loss from last year inspired me so much this year," she said. "We've all played from our hearts this year, and that's why we got where we are."
A season ago, the Cards were in a similar situation. All-state star Lauren Kracl was a critical element in the turnaround of the Eudora program. And she was trying to finish the rebuilding project with a sub-state championship. The pressure and lack of team experience, however, eventually trumped an otherwise brilliant season.
But this season was different. A freshman and a sophomore led the scoring attack. And the whole of the starting six increased their offensive capabilities.
"Last year if Lauren was off, our whole team was off," Moyer said. "But this year if we had one person off, everybody else would make up for her.
"And today, no one was off."
The achievement meant a little extra to Moyer, whose father has been summoned for an approaching deployment to Iraq. Her dad, an icon in the stands for the past four years, received a call from his daughter from center court amidst the initial post-game celebration.
"It just sucks that he can't be here," Moyer said. "But he's proud of us. I did this for him."
Eudora advanced to the championship game with wins over Bonner Springs (6-30) 25-10, 25-13 and Kansas City-Piper (21-15) 25-18, 25-21.
"I told the kids to lay it on the line today and they wouldn't go home empty handed either way, and it fell for us," Stutler said.
Now the team must regroup and compose itself for a legitimate run at the state title.
"We're just going to take it like any other week," Stutler said. "We're not going to make anything different to throw us off chaos-wise. We're going to try to keep it simple. That's what we do most -- keep it simple.
"It's still a 60-foot court; 30 feet of which you have to defend and do your job. And that's what we're going to do the best that we can."
The Cards begin pool play at 8:30 a.m. Friday at the Bicentennial Center in Salina. Eudora earned the state's second seed and will compete first against seventh-seeded La Cygne-Prairie View (23-14).
The community is invited to a send-off for the state-bound volleyball team at 5:45 p.m. Thursday at the high school, 2203 Church St. The bus is planned to leave at 6 p.m.
More like this story