Winding road lands coach at helm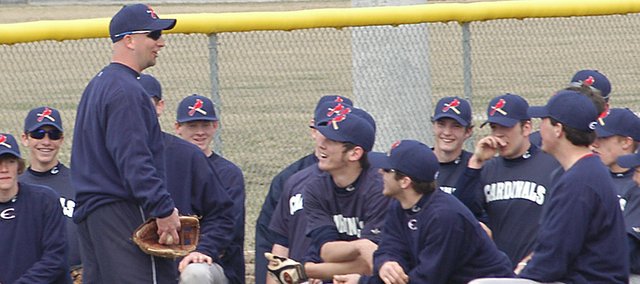 Accumulation is one factor that builds a successful coach. Whether it's Larry Brown or Joe Torre, coaches take whatever they learn from years spent coaching under older, more seasoned coaches and put it all together to mold themselves and their style as they see fit.
For first-year head baseball coach Shaun Edmondson, he feels he's learned from some of the best.
"I've been extremely blessed to be around some of the greatest junior college coaches and college coaches," Edmondson said. "Anytime you get in a position to be a head coach you have to have had a lot of positive influences to get you to where you're at. To be a good coach you have to have been taught how to be a good coach."
Edmondson's influences began at the knee-high level. His grandfather and father were ballplayers. His great-uncle, Bob Edmondson, was the first ballplayer from Lawrence to make it to the major leagues. His older brother Jason and younger brother Adam were ballplayers and had a hand in making Shaun into the player he became.
As far as his coaching career, his influences began with Brad Stoll who coached at Lawrence High School when Edmondson was part of the 1996 Lions team that won the 6A state title.
"He's been a major influence on me," Edmondson said.
After high school, Edmondson started his collegiate playing career at Baker University, and now is the only player in the history of the program to earn first team all-regional honors. Then he transferred to Independence Community College and was part of a team that posted the best record that Independence had ever had at the time.
He's had success at every level he's played at, and now the focus turns to having success as a head coach.
To get there, he began coaching in the college ranks at Neosho County Community College where he was an assistant coach and recruiting coordinator. The summer after that season, Edmondson went to Rochester, Minn., and coached alongside Kyle Crookes, the head coach at Hutchinson Community College.
"The most I've grown and matured as a coach was when I was coaching the Rochester Honkers," Edmondson said.
That team had 17 Div. I players and around the same number of players who would eventually play in the major leagues.
In Rochester, Edmondson picked the brains of kids from some of the major programs in collegiate baseball: Cal State Fullerton, Nebraska, Florida and Wichita State, among others. He asked players what drills they ran in practice, why they ran them and which ones the players felt benefited them most.
"That's really helped me a lot," Edmondson said. "There was a lot of stuff I didn't know before I got into coaching, and I'm constantly learning."
After the summer spent coaching in Rochester, Crookes hired Edmondson on to his staff at Hutchinson. He again went off to coach a college summer league team, this time in Fayetteville, N.C., before returning to Hutchinson for another year.
The following summer consisted of coaching yet another college summer league team in Braynard, Minn. In fact, in three out of the last four years, Edmondson has coached kids who've played in three College World Series championships.
After finishing his Master's at Emporia State, Edmondson got a permanent substitute-teaching job at Eudora. He coached the Lawrence Raiders in the summer, and then was asked to join Coach Dirk Kinney at Eudora High as an assistant in the middle of March last year.
Then when Kinney took the pitching coach job at Ouachita Baptist University in Arkadelphia, Ark., Edmondson took over.
"'Coach E' is a young coach, very energetic. He's not taking anything for granted," said athletic director Dave Durkin. "He's going from the basics at the beginning and working things through clear until the end. I've been very impressed with that. I think he's going to be a very good coach. Through the whole process, we thought he was the best person for the job to take us where we want to go."
And Edmondson couldn't be happier with the decision.
"I'm really happy here," he said. "The administration has been really helpful. I love the facilities, I love the kids and I love the town. What I like the most is there are so many good coaches. We, as a baseball staff, get the opportunity to coach these same kids. So all the good coaching that they do, we get to reap those benefits of these kids already being disciplined and understanding what it takes to win."
Edmondson makes his head-coaching debut when the Cardinals host Gardner Edgerton at 4:30 p.m. Thursday.