Neighbors: Marian Mersmann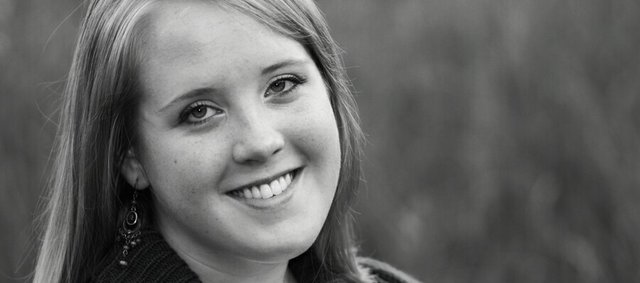 Occupation: Senior, Eudora High School
Family: Parents, Walter and Martha; five sisters, Molly, Ruth, Therese, Maureen and Claire; and three brothers, Michael, Charles and Anthony
Q: How long have you lived in Eudora?
A: I've lived here my whole life, 17 years.
Q: What is the best advice you've ever been given?
A: It's kind of generic, but think before you speak.
Q: What are three things people should know about you?
A: I can't wait to graduate and become a Wildcat (Marian will attend Kansas State University in the fall), I'm a big Michael Buble fan and I'm very impatient.
Q: What are three of your pet peeves?
A: When people stress the wrong syllable of a word, I don't like it when my shoes have scuffs on them and when people are inefficient .
Q: What do you want to be when you are finished with college?
A: My dream is to be a psychologist and open my own practice, but also I've been thinking about becoming a clinical psychologist and working with kids in schools or becoming an English teacher.
Favorite things
Song:
"The Heart of Life" by John Mayer
Last good movie you saw:
"The Boy in the Striped Pajamas"
Book: The "Harry Potter" series
Food: Chinese food