Unexpected ending
Football run ends with 33-14 home sectional loss to Paola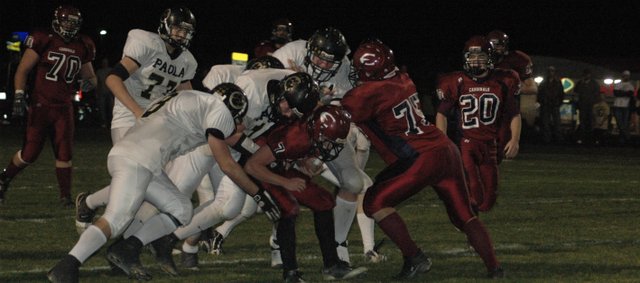 No one expected the Eudora Cardinals' season to end quite like this.
Eudora entered Friday's sectional contest with Paola having won five in a row, and won the last time Eudora and Paola met back in week four of the regular season. But Paola ended Eudora's season with a 33-14 thumping Friday at Laws Field.
"That was kind of a shocker," Eudora coach Gregg Webb said. "But we didn't play very well. That's just what happens when you don't play very well."
Eudora's season effectively ended early in the third quarter, when after stopping Paola three-and-out to start the half, Eudora had the ball at its own 24-yard line and momentum on its side. But on the first play, quarterback Evan Cleveland lined up in the shotgun and the snap went high over his head.
Paola recovered at the 18-yardline, and five plays later, Tyler Henness scored from two-yards out.
"That's the ballgame," Webb said. "You can kiss it goodbye right there."
From Eudora's first play of the game when receiver Brian Katzfey was tackled for an eight-yard loss on a reverse, the Cardinals were out of synch all night. Paola scored on its first two possessions of the game, and totaled 133 yards of offense on its first two drives compared to Eudora's two three-and-outs.
"We gave them two touchdowns at the beginning, and I really thought we would come out better than that," Webb said. "But their defensive line just owned our offensive line."
Eudora would answer in the second quarter, as Cleveland connected with receiver Christian Richardson on a 24-yard catch-and-run to the end zone that put the Cardinals down just 12-7 at the half.
Eudora's defense then held Paola three-and-out to open the third, thanks to Eudora defensive guard Alex Whitten's tackle in the backfield on Paola running back Skylar Hawkins. But following the punt and the critical Eudora turnover, Paola later put the game out of reach with a 42-yard touchdown run late in the third that made the score 26-7.
"We thought we had a decent game plan, and that goes out the window," Webb said.
Eudora's offense stalled again, and after pinning Paola back at its five-yard line, the Panthers marched down the field, and Hawkins finished that drive with an eight-yard touchdown run early in the fourth quarter.
Eudora's only other scoring threat in the game came on a drive late in the fourth, and Cleveland scored from six-yards out. The Cardinals could never find a rhythm offensively and also had to play with injuries. Starting fullback and linebacker Boomer Mays played on two bad ankles, and fellow fullback/linebacker Caleb Clayton-Molby also was injured early in the game.
"You combine that and you're looking at 33-14 and not a pretty outcome," Webb said.
Hawkins led Paola's rushing attack with 142 yards on 23 carries and two touchdowns. Paola rushed for 342 yards in the game. Cleveland led Eudora with 58 yards rushing on 24 carries. The Cardinals totaled just 77 yards on the ground and 125 total yards at game's end.
"If we play our game and they play their game, we still think we're the better team," Cleveland said. "But we didn't play our game tonight."
Eudora finished the year 9-3. Paola (9-3) will play Bishop-Miege in the state semifinals Friday.