Chamber of commerce honors volunteering at annual awards dinner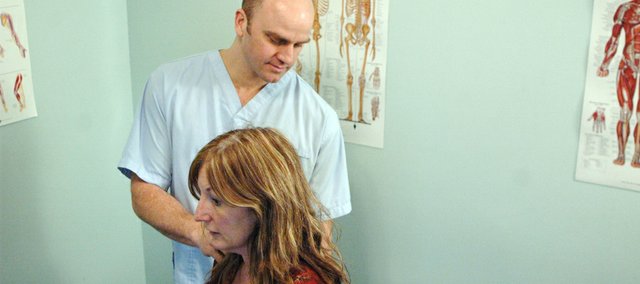 Chiropractor Doug Mateo said he was excited to have his practice, Mateo Chiropractic, named the Eudora Chamber of Commerce Business of the Year for 2009.
What he especially relished was the fact that the award focused not only on the success of his business, but also his work to give back to the community.
"I think I'm living more of an altruistic lifestyle now," Mateo said. "I'm giving with nothing to come in return, and I feel really good about what I do."

Chamber President Amy Durkin presented him with the award Saturday night at the chamber's annual dinner.
"Success is a factor because a successful business brings a lot to the community in the way of jobs, but the bigger factor with Dr. Mateo is he's always there and willing to give of himself to Eudora," Durkin said.
Mateo brought his practice from New York to Eudora in 2006. He has organized several food drives through his practice and is involved with the chamber, the Eudora Lions Club and donates his time to skilled nursing facility Medicalodges, Eudora.
He said that upon joining the Lions Club, longtime member Bob Slapar told him about how important it is to provide services to those who are less fortunate.
"As a chiropractor, you're a caregiver and you give to help people's bodies work more efficiently," Mateo said. "I've expanded that philosophy to the community because they're helping me keep food on my table and keep my lights on."
The chamber also named Denise Davis its person of the year. Davis served as the chamber's secretary and treasurer and was instrumental in organizing activities such as music in the park, the Christmas Extravaganza and support of the Buffalo Bill Century Tour of Seven Cities and Bikers for Babies.
Davis had lived in Eudora for about 6 years and this month moved because her husband was relocated. She said she was honored and surprised to win the award, which she was given in early February at a going away party.
"I came to Eudora kicking and screaming, but it ended up being home and I'm really sad to be leaving," Davis said. "I was speechless (upon receiving the award), and for me that's saying something."
She also said part of feeling at home was her work with the chamber. With the leadership in place, Davis said she had high hopes for what the city can accomplish.
"Denise is a person who is very organized and on the ball," Durkin said. "She definitely made a difference to the chamber in getting things prepared. Her and her husband also dedicated a lot of their time behind the scenes to make things happen.
"Her help was vital to the chamber and it will be hard to replace her."